In a world where everything is just a click away, cybersecurity trends are a matter of concern. With data breaches, hacking, and malware attacks becoming more sophisticated, it's crucial to stay ahead of the curve and remain vigilant in the fight against cybercrime. 
For the unversed, cybersecurity is the practice of protecting computer systems, networks, and data from theft, damage, or unauthorized access. In today's digital age, cybersecurity is more important than ever, as businesses and individuals rely heavily on technology to store and exchange sensitive information. 
Key components of cybersecurity
There are several key components to cybersecurity. The first is prevention. This involves implementing security measures such as firewalls, antivirus software, and access controls to prevent unauthorized access to systems and data. It also involves regularly updating software and systems to patch vulnerabilities that could be exploited by cybercriminals. 
Another key component of cybersecurity is detection. This involves monitoring systems and networks for suspicious activity, such as unauthorized access attempts or unusual network traffic. Early detection of potential threats can help organizations mitigate the damage and prevent data loss. 
If a breach does occur, it is important to have a response plan in place. This involves having procedures for investigating and containing the breach and notifying affected individuals and authorities as needed. It is also important to have a plan for restoring systems and data after a breach, which may involve restoring backups or rebuilding systems from scratch. 
Cybersecurity trends to watch out for in 2023
Since cybersecurity is a constantly evolving field, new threats emerge every year. As we look ahead to 2023, there are several cybersecurity trends that organizations and individuals need to watch out for. 
Get familiar with the latest Large Language Models tools and technologies with us:

1. Ransomware attacks
Ransomware is a type of malware that infects a computer system and encrypts its files, making them inaccessible to the user. The attacker then demands a ransom payment in exchange for the decryption key. 
One reason for the rise of ransomware attacks is that they are incredibly profitable for cybercriminals. The cost of paying the ransom is often much lower than the cost of restoring the system from backups or dealing with the fallout from a data breach. The consequences of a successful ransomware attack can be severe. In addition to the financial costs of paying the ransom and restoring the system, organizations may suffer reputational damage and loss of business. In some cases, sensitive data may be stolen and used for malicious purposes. 
To protect against the threat of ransomware attacks, organizations need to take proactive steps to improve their cybersecurity defenses. This includes having strong backup and recovery systems in place, regularly updating software and security patches, and educating employees about cybersecurity best practices.  
2. Healthcare sector at risk
The healthcare industry is expected to face more cyber attacks in 2023. This industry has already seen a significant increase in cyber attacks in recent years, with a 44% increase resulting in the compromise of 40 million American patient records in 2021. This affected over 22.6 million patients, which is equal to the population of New York.
A research survey shows that approximately 60% of all ransomware attacks target patient data, while the remaining attacks focus on disrupting operations or taking over systems.
Phishing scams were the most common type of cyber attack on healthcare organizations in 2020, affecting 81% of companies. With the onset of the COVID-19 pandemic, phishing incidents increased by 220%.
3. Artificial intelligence (AI) in cyberattacks
With Chat GPT storming the internet, cybercriminals are well versed with current trends and are using Artificial intelligence to launch more sophisticated attacks. AI-powered attacks can quickly adapt to changing environments, making them harder to detect and defend against. 
AI-powered attacks can take different forms, such as phishing emails, malware, or social engineering scams. For example, AI can be used to create highly convincing phishing emails that appear to be from trusted sources, making it easier for attackers to trick users into clicking on malicious links or downloading malware. 
To protect against AI-powered cyberattacks, organizations need to stay vigilant and adopt advanced cybersecurity tools and techniques that can detect and respond to these threats in real time. This includes using AI-based cybersecurity solutions that can identify and block attacks before they cause damage. Organizations should also implement security awareness training programs to educate employees on how to recognize and report suspicious activity.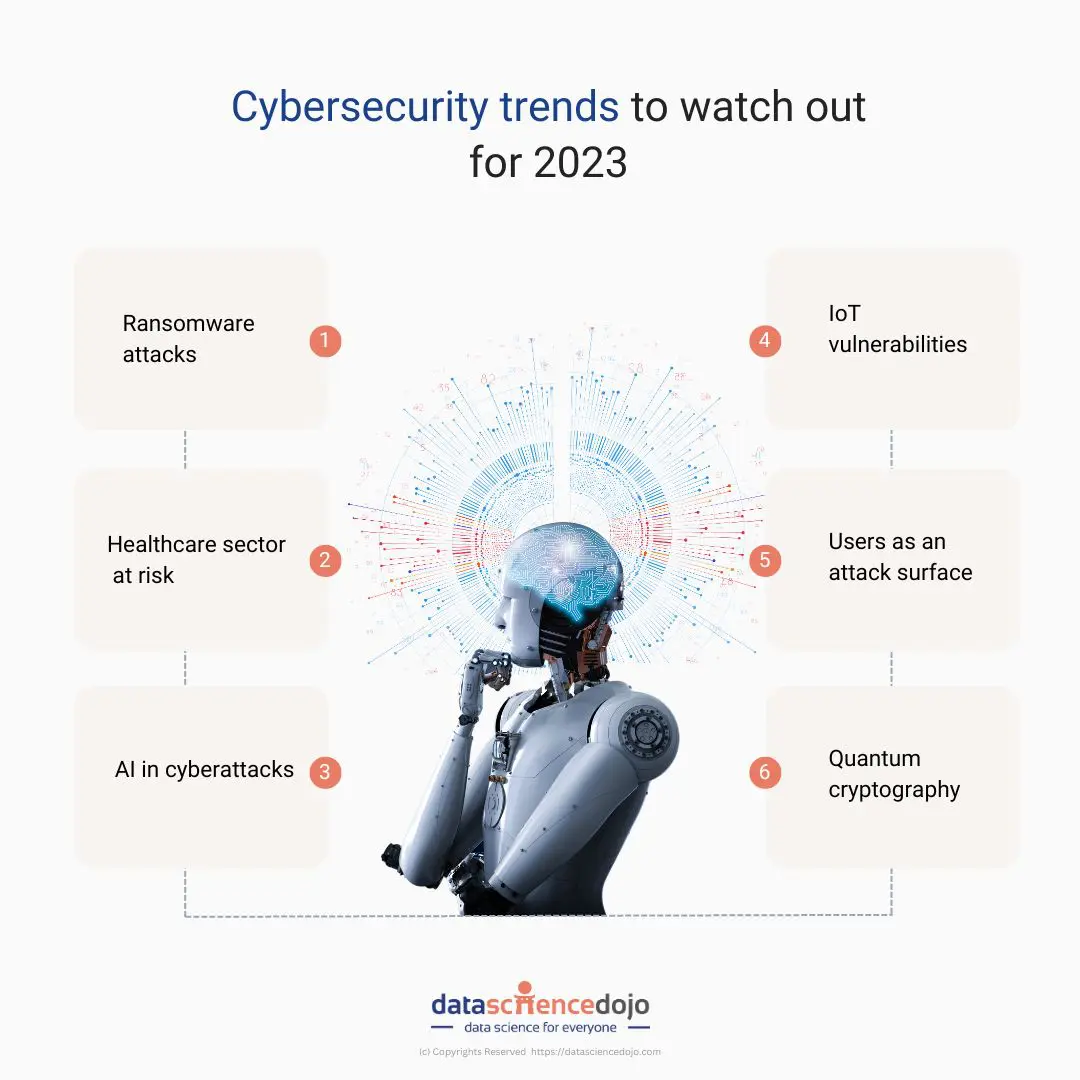 4. IoT vulnerabilities
Next up on the cybersecurity trends list, we have IoT vulnerabilities. The security of IoT devices is a concern, and manufacturers are aware of this issue. However, they may not be fully knowledgeable about all the possible vulnerabilities that exist. If any security breaches are discovered, the consequences could be severe.
As per information from Oracle, the number of connected IoT devices has already exceeded 7 billion and is projected to increase to 22 billion by 2025. This growth presents a large opportunity for cybercriminals to carry out attacks.
5. Users as an attack surface
In 2023, one of the cybersecurity trends is expected to be the increased focus on users as an attack surface. Cyber attackers will continue to target an organization's user base by using tactics like phishing, social engineering, and other methods to gain unauthorized access.
This trend is driven by the fact that user error remains one of the biggest cybersecurity risks for organizations, as attackers exploit the human element to gain entry to networks and systems. As a result, organizations will need to prioritize user education and awareness training to mitigate the risks posed by user-targeted attacks.
6. Quantum cryptography
As quantum computing becomes more widespread, traditional cryptographic methods used for encryption are becoming increasingly vulnerable. Quantum cryptography provides an alternative approach to encryption that is highly secure and resistant to attacks by quantum computers. Quantum cryptography uses quantum mechanics to generate encryption keys, which are then used to secure communications. This method provides an exceptionally high level of security and privacy.
Navigating cybersecurity challenges: Lessons learned and outlook
Overall, cybersecurity is a critical component of modern business and personal life. It requires ongoing vigilance and attention, as cybercriminals continue to develop new tactics and strategies to exploit vulnerabilities. By staying informed and taking proactive measures to protect systems and data, individuals and organizations can help ensure their safety and security in the digital age. 
In conclusion, 2023 is expected to bring new and evolving cybersecurity trends and threats. It is important for organizations to stay vigilant, stay up to date with the latest cybersecurity tools and techniques, and ensure that their employees are trained to recognize and respond to potential threats. By taking proactive measures to protect their systems and data, organizations can reduce the risk of cyberattacks and keep their businesses running smoothly. 
 Interested in learning about Large Language Models and building custom ChatGPT like applications for your business? Click below