Data Science Dojo is offering Countly for FREE on Azure Marketplace packaged with web accessible Countly Server. 
Purpose of product analytics 
Product analytics is a comprehensive collection of mechanisms for evaluating the performance of digital ventures created by product teams and managers. 
Businesses often need to measure the metrics and impact of their products, for e.g., how the audience perceives their product like how many visitors are reading a particular page or clicking on a specific button. This gives an insight into what future decisions need to be taken regarding any product. Whether it should be modified? or removed? or kept as it is? Countly has made this work easier by providing a centralized web analytics environment to track the user engagement with a product along with monitoring its health.  
Pro Tip: Join our 6-months instructor-led Data Science Bootcamp to become expert at data science & analytics skillset  
Challenges for individuals 
Many platforms require developers for coding to visualize analytics which is not only time consuming but also come at a cost. At the application level, having an app crash leaves anyone in shock, and that is followed by a hectic task of determining the root cause of the problem which is time-consuming. At the corporate level, the current and past data needs to be analyzed appropriately for the future strength of the company and that requires robust analysis easily acquired by anyone which was a challenge faced by many organizations  
Countly analytics
Countly enables users to monitor and analyze the performance of their applications irrespective of the platform in real-time. It can compile data from numerous sources and presents it in a manner that makes it easier for business analysts and managers to evaluate app usage and client behavior. It offers a customizable dashboard with the freedom to innovate and improve your products in order to meet important business and revenue objectives while also ensuring privacy by design. It is a world leader in product analytics because it tracks more than 1.5 billion unique identities on more than 16,000 applications and more than 2,000 servers worldwide.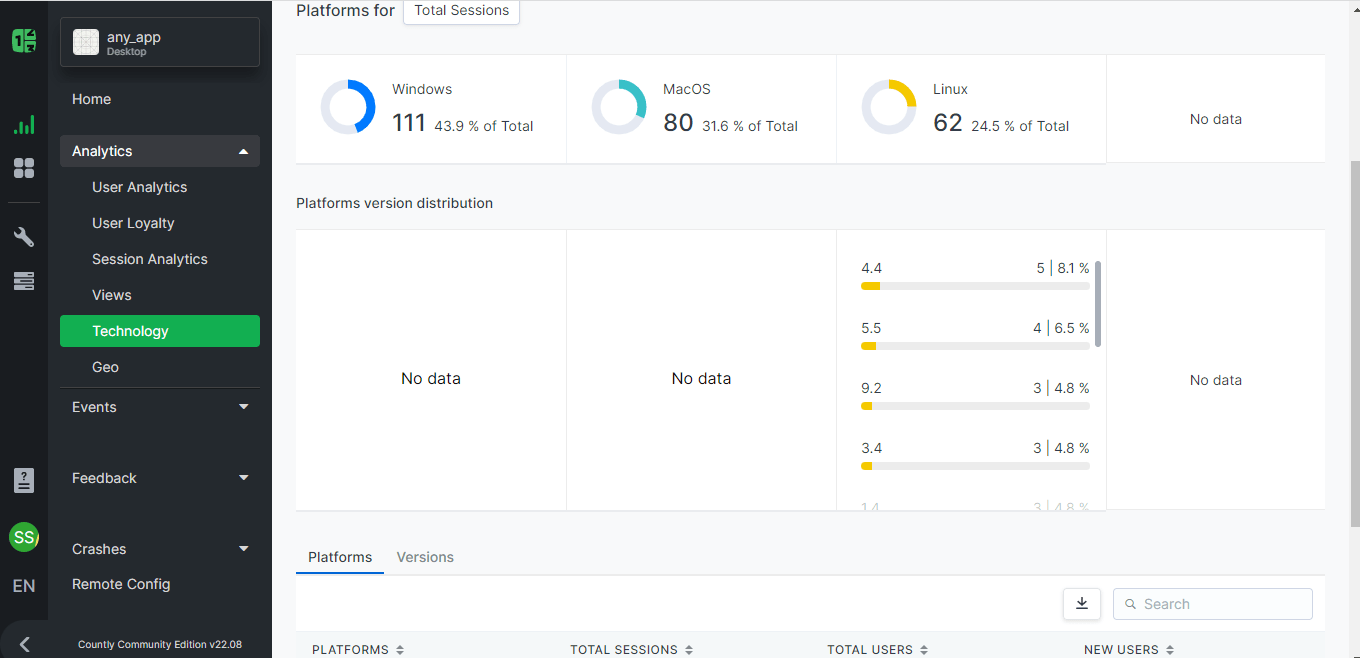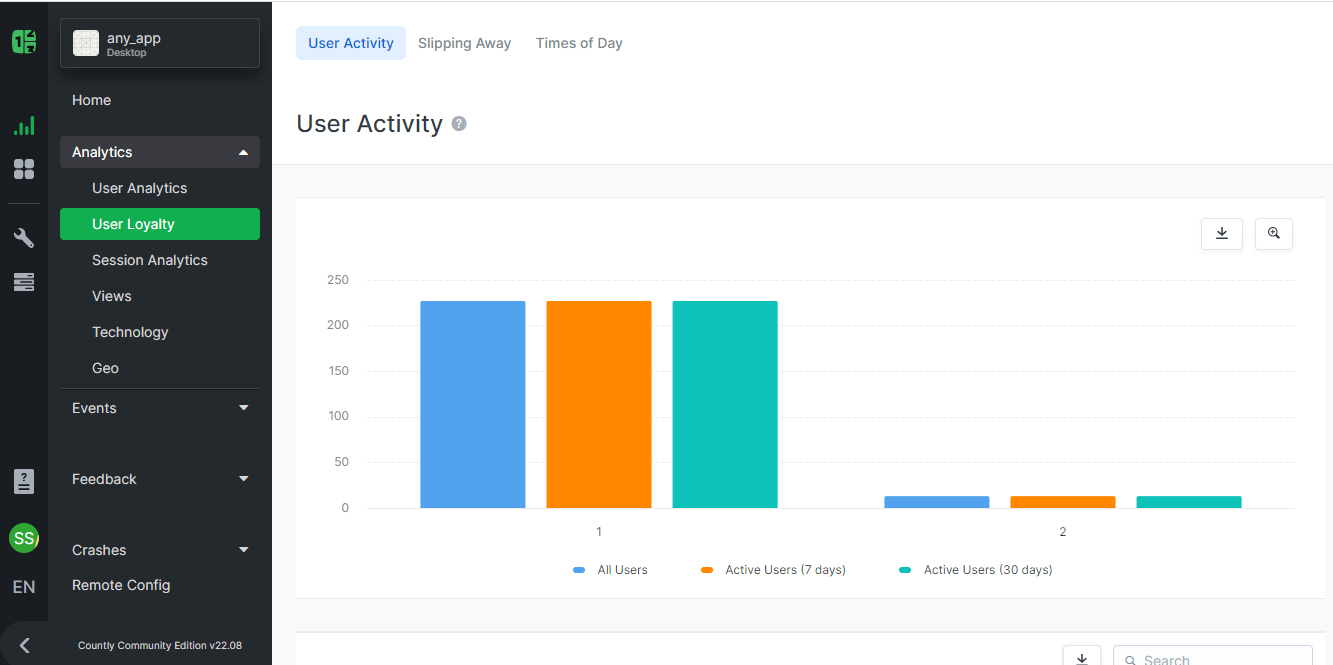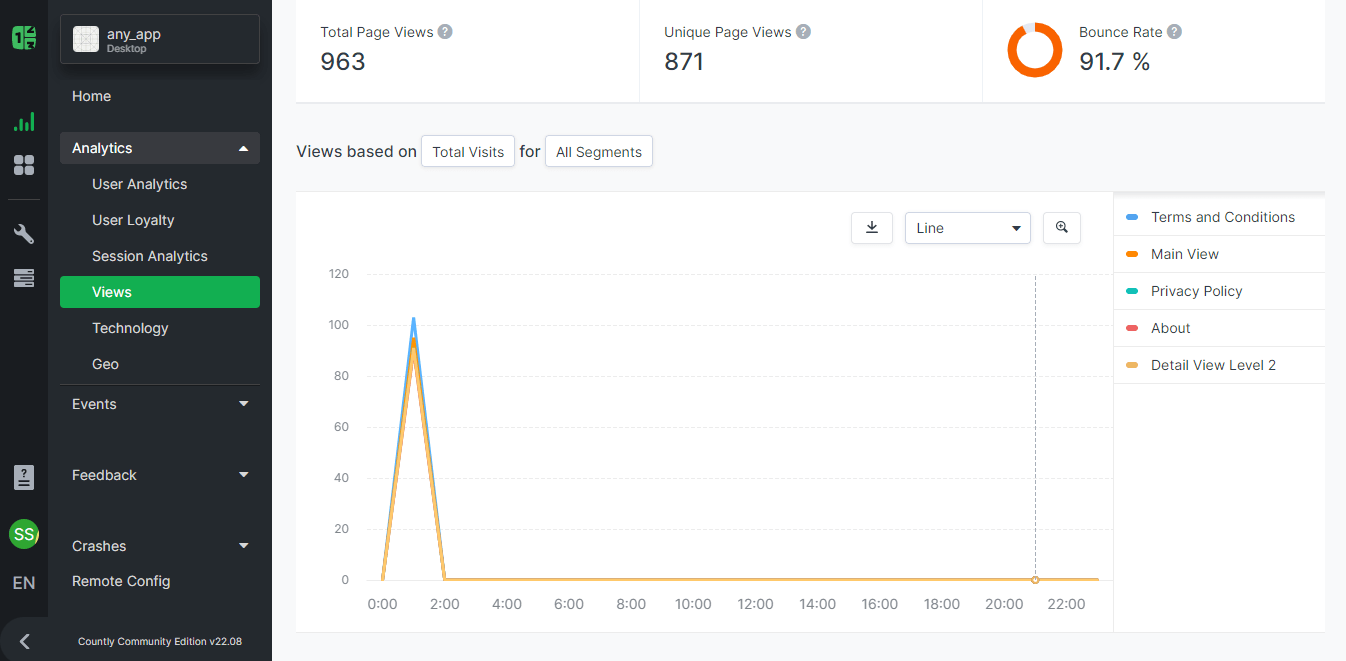 Major characteristics
Interactive web interface

:

User-friendly web environment with customizable dashboards for easy accessibility along with pre-designed metrics and visualizations

 

Platform-independent:

Supports web analytics, mobile app analytics, and desktop application analytics for macOS and Windows

 

Alerts and email reporting

:

Ability to receive alerts based on the metric changes and provides custom email reporting

 
Users' role and access manager:

Provides global administrators the ability to manage users, groups, and their roles and permissions

 

Logs Management:

Maintains server and audit logs on the web server regarding user actions on data

 
What Data Science Dojo has for you 
Countly Server packaged by Data Science Dojo provides a web analytics service that provides insights about your product in real-time, no matter if it's a web application or mobile app, or even desktop application without the burden of installation. It comes with numerous pre-configured metrics and visualization templates to import data and observe trends. It's helpful for businesses to identify the application usage and determine the client response to the apps.  
Features included in this offer: 
A VM configured with Countly Server: Community Edition accessible from a web browser

 

Ability to track user analytics, user loyalty, session analytics, technology, and geo insights 

 

Easy-to-use customizable dashboard

 

Logs manager

 

Alerting and reporting feature

 
User permissions and roles manager

 

Built-in Countly DB viewer

 

Cache management

 

Flexibility to define data limits

 

 
Conclusion 
Countly provides the feasibility to analyze data in real-time. It is highly extensible and possesses various features to manage different operations like alerting, reporting, logging, job management, etc. The analytics throughput can be increased by using multi-cores on Azure Virtual Machine. Also, Countly can handle different platform applications at once. This might slow down the server if you have thousands upon thousands of active client requests on different applications. The CPU and RAM usage may also be affected but through Azure Virtual Machine all these problems are taken care of. 
At Data Science Dojo, we deliver data science education, consulting, and technical services to increase the power of data. We are therefore adding a free Countly Server dedicated specifically for Data Analytics operations on Azure Market Place. Hurry up and install this offer by Data Science Dojo, your ideal companion in your journey to learn data science! 
Click on the button below to head over to the Azure Marketplace and deploy Countly for FREE by clicking on "Try now". 

Note: You'll have to sign up to Azure, for free, if you do not have an existing account.