What can be a better way to spend your days listening to interesting bits about trending AI and Machine learning topics? Here's a list of the 10 best AI and ML podcasts.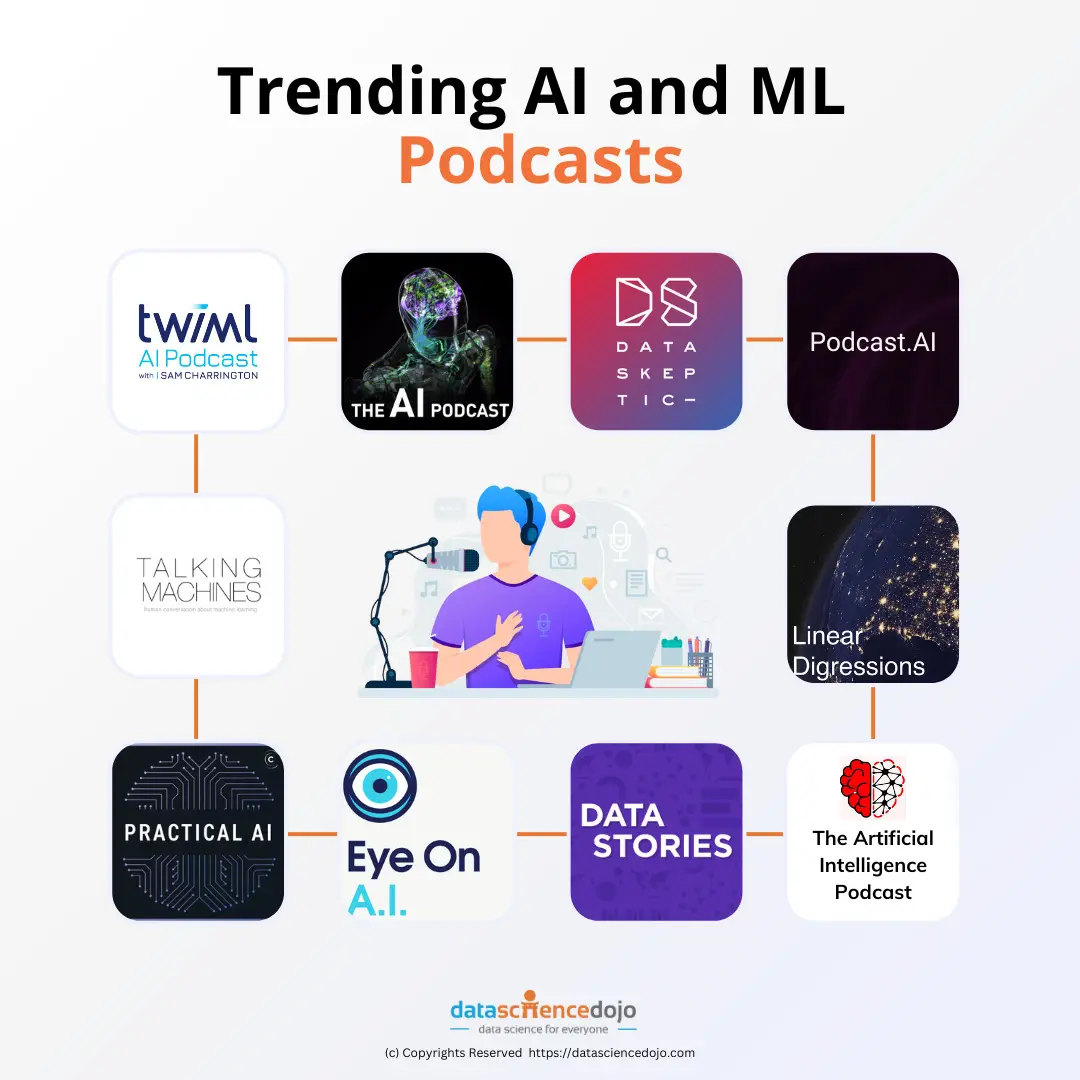 1. The TWIML AI Podcast (formerly This Week in Machine Learning & Artificial Intelligence)
Artificial intelligence and machine learning are fundamentally altering how organizations run and how individuals live. It is important to discuss the latest innovations in these fields to gain the most benefit from technology. The TWIML AI Podcast outreaches a large and significant audience of ML/AI academics, data scientists, engineers, tech-savvy business, and IT (Information Technology) leaders, as well as the best minds and gather the best concepts from the area of ML and AI.  
The podcast is hosted by a renowned industry analyst, speaker, commentator, and thought leader Sam Charrington. Artificial intelligence, deep learning, natural language processing, neural networks, analytics, computer science, data science, and other technologies are discussed. 
2. The AI
Podcast
One individual, one interview, one account. This podcast examines the effects of AI on our world. The AI podcast creates a real-time oral history of AI that has amassed 3.4 million listens and has been hailed as one of the best AI and machine learning podcasts. They always bring you a new story and a new 25-minute interview every two weeks. Consequently, regardless of the difficulties, you are facing in marketing, mathematics, astrophysics, paleo history, or simply trying to discover an automated way to sort out your kid's growing Lego pile, listen in and get inspired. 
3. Data Skeptic
Data Skeptic launched as a podcast in 2014. Hundreds of interviews and tens of millions of downloads later, we are a widely recognized authoritative source on data science, artificial intelligence, machine learning, and related topics. 
Data Skeptic runs in seasons. By speaking with active scholars and business leaders who are somehow involved in our season's subject, we probe it. 
We carefully choose each of our visitors using a system internally. Since we do not cooperate with PR firms, we are unable to reply to the daily stream of unsolicited submissions. Publishing quality research to the arxiv is the greatest approach to getting on the show. It is crawled. We will locate you. 
Data Skeptic is a boutique consulting company in addition to its podcast. Kyle participates directly in each project our team undertakes. Our work primarily focuses on end-to-end machine learning, cloud infrastructure, and algorithmic design. 
The Data Skeptic Podcast features interviews and discussion of topics related to data science, statistics, machine learning, artificial intelligence and the like, all from the perspective of applying critical thinking and the scientific method to evaluate the veracity of claims and efficacy of approaches. 
Pro-tip: Enroll in the data science boot camp today to learn the basics of the industry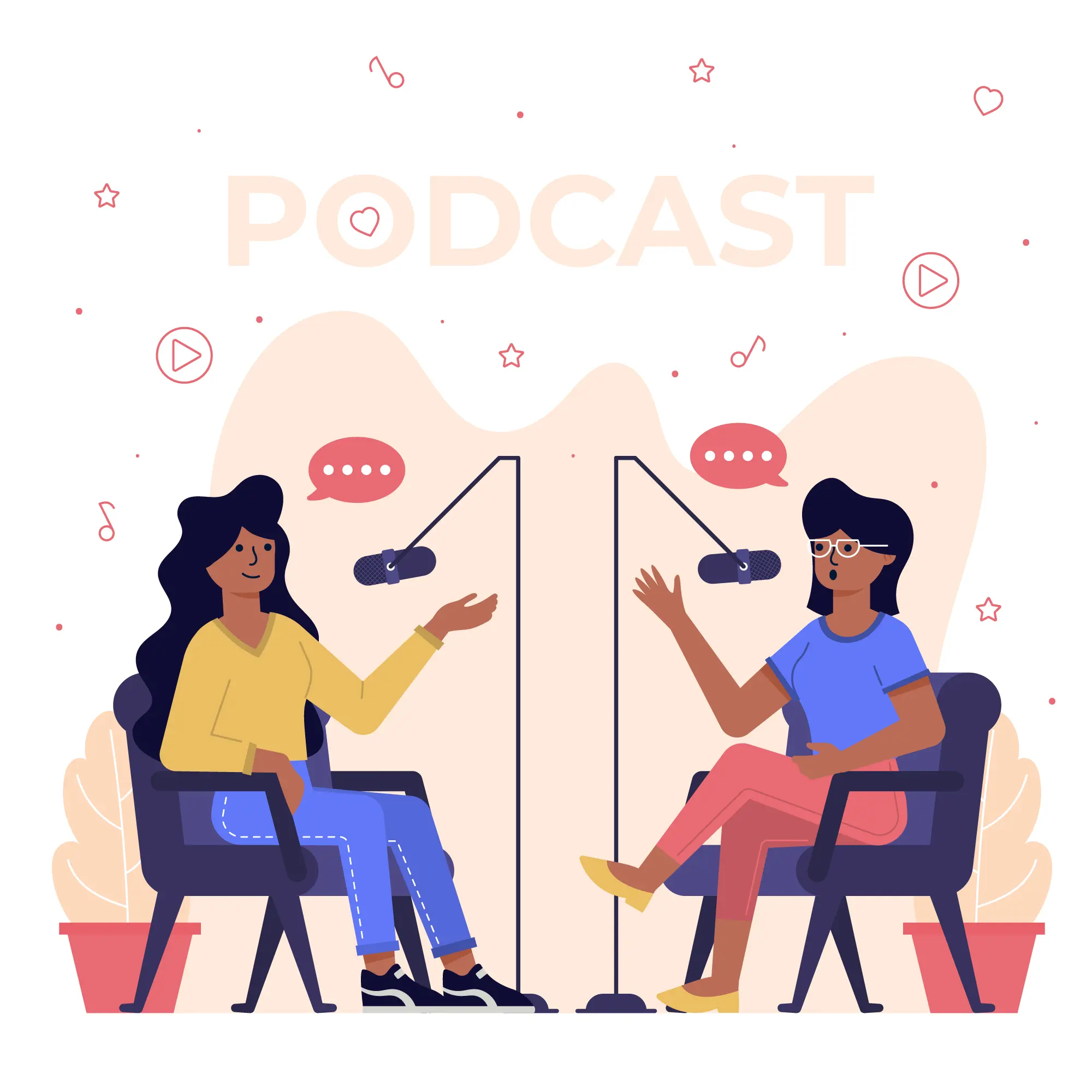 4. Podcast.ai 
Podcast.ai is entirely generated by artificial intelligence. Every week, they explore a new topic in-depth, and listeners can suggest topics or even guests and hosts for future episodes. Whether you are a machine learning enthusiast, just want to hear your favorite topics covered in a new way or even just want to listen to voices from the past brought back to life, this is the podcast for you.
The podcast aims to put incremental advances into a broader context and consider the global implications of developing technology. AI is about to change your world, so pay attention. 
5. The Talking Machines
Talking machines is a podcast hosted by Katherine Gorman and Neil Lawrence. The objective of this show is to bring you clear conversations with experts in the field of machine learning, insightful discussions of industry news, and useful answers to your questions. Machine learning is changing the questions we can ask of the world around us, here we explore how to ask the best questions and what to do with the answers. 
6. Linear Digressions
If you are interested in learning about unusual applications of machine learning and data science. In each episode of linear digressions, your hosts explore machine learning and data science through interesting apps. Ben Jaffe and Katie Malone host the show, they assure themselves to produce the most exciting additions in the industry such as AI-driven medical assistants, open policing data, causal trees, the grammar of graphics and a lot more.  
7. Practical AI: Machine Learning, Data Science
Making artificial intelligence practical, productive, and accessible to everyone. Practical AI is a show in which technology professionals, businesspeople, students, enthusiasts, and expert guests engage in lively discussions about Artificial Intelligence and related topics (Machine Learning, Deep Learning, Neural Networks, GANs (Generative adversarial networks), MLOps (machine learning operations) (machine learning operations), AIOps, and more).
The focus is on productive implementations and real-world scenarios that are accessible to everyone. If you want to keep up with the latest advances in AI, while keeping one foot in the real world, then this is the show for you! 
8. Data Stories
Enrico Bertini and Moritz Stefaner discuss the latest developments in data analytics, visualization, and related topics. The data stories podcast consists of regular new episodes on a range of discussion topics related to data visualization. It shares the importance of data stories in different fields including statistics, finance, medicine, computer science, and a lot more to name. The podcast's hosts Enrico and Moritz invite industry leaders, experienced professionals, and instructors in data visualization to share the stories and the importance of representation of data visuals into appealing charts and graphs. 
9. The Artificial Intelligence Podcast
The Artificial intelligence podcast is hosted by Dr. Tony Hoang. This podcast talks about the latest innovations in the artificial intelligence and machine learning industry. The recent episode of the podcast discusses text-to-image generator, Robot dog, soft robotics, voice bot options, and a lot more.  
10. Learning Machines 101
Smart machines employing artificial intelligence and machine learning are prevalent in everyday life. The objective of this podcast series is to inform students and instructors about the advanced technologies introduced by AI and the following: 
 How do these devices work?

 

Where do they come from?

 

How can we make them even smarter?

 

And how can we make them even more human-like?

 
Have we missed any of your favorite podcasts?
 Do not forget to share in comments the names of your most favorite AI and ML podcasts. Read this amazing blog if you want to know about Data Science podcasts.