There are several informative data science podcasts out there right now, giving you everything you need to stay up to date on what's happening. We previously covered many of the best podcasts in this blog, but there are lots more that you should be checking out. Here are 10 more excellent podcasts to try out.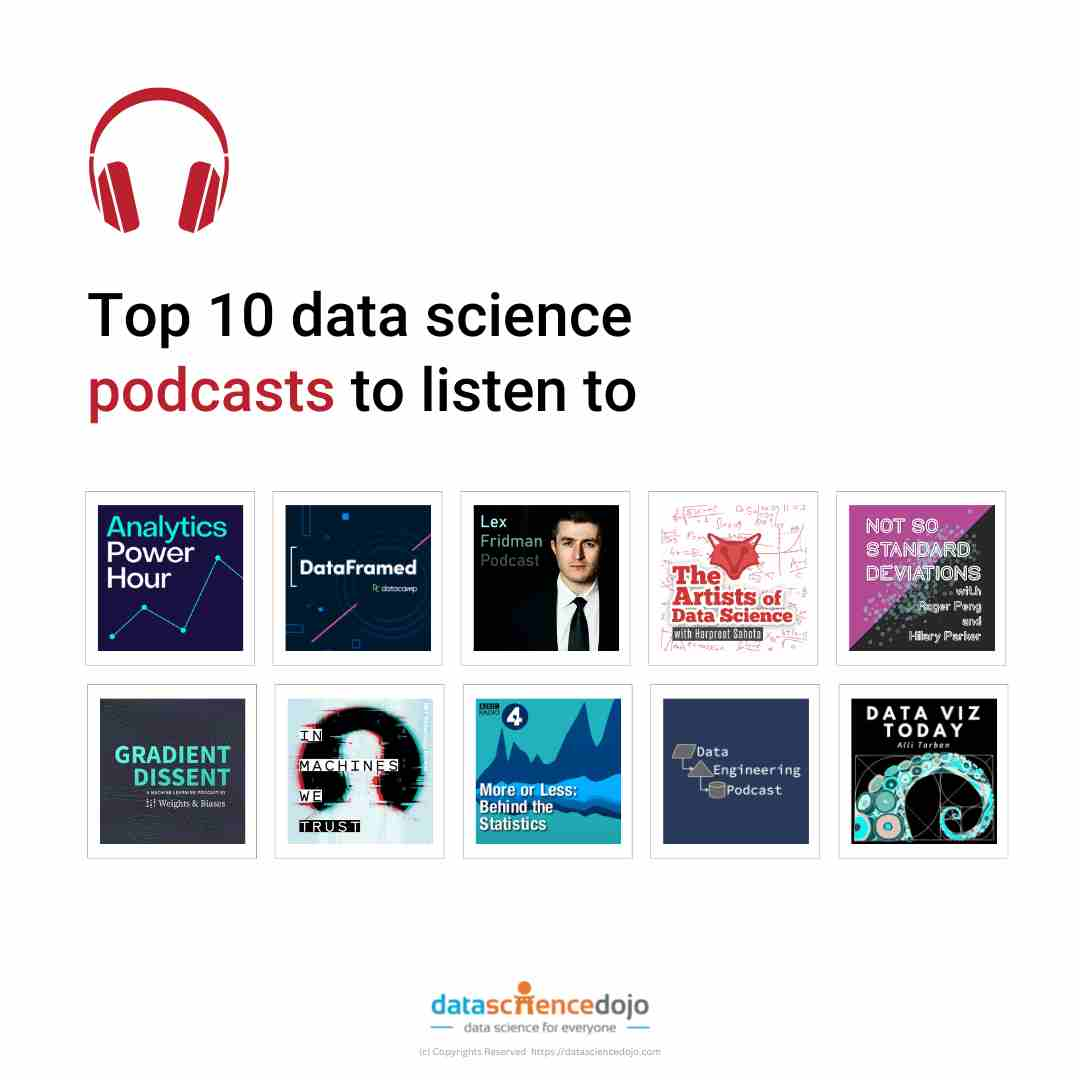 1. Analytics Power Hour
Every week hosts, Michael Helbling, Tin Wilson, and Moe Kiss cover a different analytics topic that you may want to know about. The show was founded on the premise that the best discussions always happen at drinks after a conference or show. 
Recent episodes have covered topics like analytics job interviews, data as a product, and owning vs. helping in analytics. There are a lot to learn here, so they're well worth a listen. 
2. DataFramed
This podcast is hosted by DataCamp, and in it, you'll get interviews with some of the top leaders in data. "These interviews cover the entire range of data as an industry, looking at its past, present, and future. The guests are from both the industry and academia sides of the data spectrum too" says Graham Pierson, a tech writer at Ox Essays and UK Top Writers.   
There are lots of episodes to dive into, such as ones on building talent strategy, what makes data training programs successful, and more. 
3.

Lex Fridman Podcast

If you want a bigger picture of data science, then listen to this show. The show doesn't exclusively cover data science anymore, but there's plenty here that will give you what you're looking for. 

You'll find a broader view of data, covering how data fits in with our current worldview. There are interviews with data experts so you can get the best view of what's happening in data right now. 
4. The Artists of Data Science
This podcast is geared toward those who are looking to develop their career in data science. If you're just starting, or are looking to move up the ladder, this is for you. There's lots of highly useful info in the show that you can use to get ahead. 
There are two types of episodes that the show releases. One is advice from experts, and the others are 'happy hours, where you can send in your questions and get answers from professionals. 
5. Not So Standard Deviations
This podcast comes from two experts in data science. Roger Peng is a professor of biostatistics at John Hopkins School of Public Health, and Hilary Parker is a data scientist at Stitch Fix. They cover all the latest industry news while bringing their own experience to the discussion.
Their recent episodes have covered subjects like QR codes, the basics of data science, and limited liability algorithms. 
Find out other exciting  18 Data Science podcasts
6. Gradient Dissent
Released twice a month, this podcast will give you all the ins and outs of machine learning, showing you how this tech is used in real-life situations. That allows you to see how it's being used to solve problems and create solutions that we couldn't have before. 
Recent episodes have covered high-stress scenarios, experience management, and autonomous checkouts. 
7. In Machines We Trust
This is another podcast that covers machine learning. It describes itself as covering 'the automation of everything, so if that's something you're interested in, you'll want to make sure you tune in. 
"You'll get a sense of what machine learning is being used for right now, and how it impacts our daily lives," says Yvonne Richards, a data science blogger at Paper Fellows and Boom Essays. The episodes are around 30 mins long each, so it won't take long to listen and get the latest info that you're looking for. 
8. More or Less
This podcast covers the topic of statistics through noticeably short episodes, usually 8 minutes or less each. You'll get episodes that cover everything you could ever want to know about statistics and how they work.   
For example, you can find out how many swimming pools of vaccines would be needed to give everyone a dose, see the one in two cancers claim debunked, and how data science has doubled life expectancy. 
9. Data Engineering Podcast
This show is for anyone who's a data engineer or is hoping to become one in the future. You'll find lots of useful info in the podcast, including the techniques they use, and the difficulties they face. 
Ensure you listen to this show if you want to learn more about your role, as you'll pick up a lot of helpful tips. 
10.

Data viz Today

This show doesn't need a lot of commitment from you, as they release 30 min episodes monthly. The podcast covers data visualization, and how this helps to tell a story and get the most out of data no matter what industry you work in. 
Share with us exciting Data Science podcasts
These are all great podcasts that you can check out to learn more about data science. If you want to know more, you can check out Data Science Dojo's informative sessions on YouTube. If we missed any of your favorite podcasts, do share them with us in the comments!
These interviews cover the entire range of data as an industry, looking at its past, present, and future. The guests are from both the industry and academia sides of the data spectrum too, says Graham Pierson, a tech writer at Academized.