A new era in AI: introducing ChatGPT Enterprise for businesses! Explore its cutting-edge features and pricing now.
To leverage the widespread popularity of ChatGPT, OpenAI has officially launched ChatGPT Enterprise, a tailored version of their AI-powered chatbot application, designed for business use.
---
Introducing ChatGPT enterprise
ChatGPT Enterprise, which was initially hinted at in a previous blog post earlier this year, offers the same functionalities as ChatGPT, enabling tasks such as composing emails, generating essays, and troubleshooting code. However, this enterprise-oriented iteration comes with added features like robust privacy measures and advanced data analysis capabilities, elevating it above the standard ChatGPT. Additionally, it offers improved performance and customization options.
These enhancements put ChatGPT Enterprise on a feature parity level with Bing Chat Enterprise, Microsoft's recently released enterprise-focused chatbot service.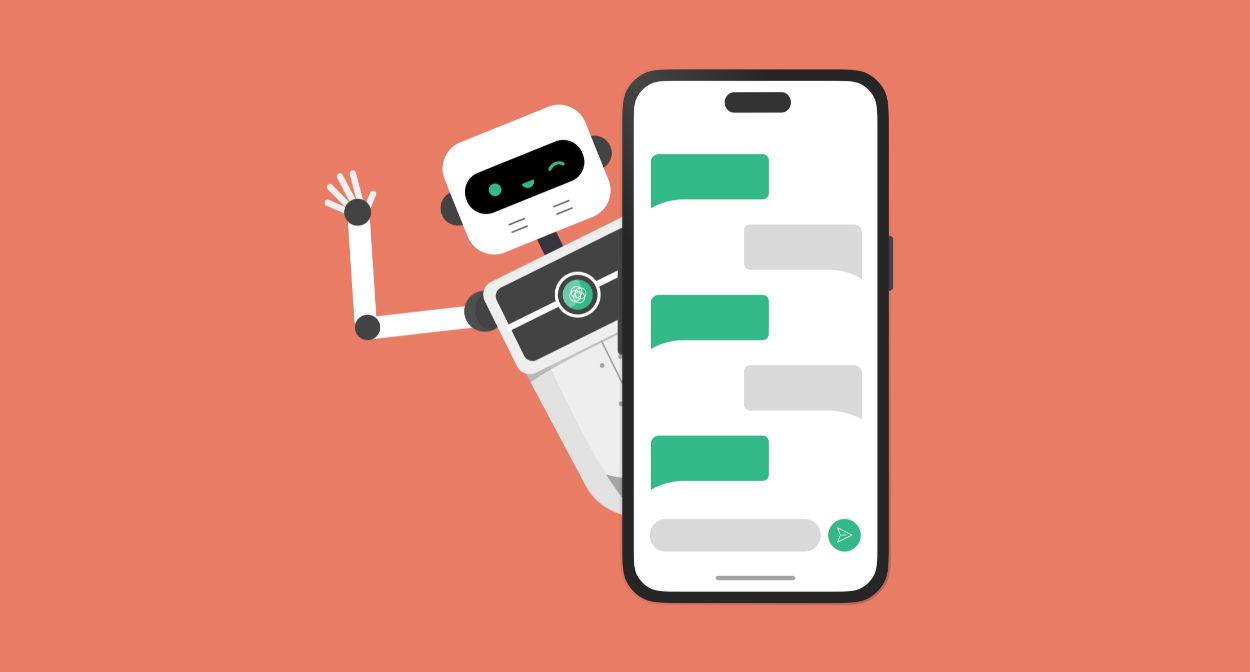 Privacy, customization, and enterprise optimization
"Today marks another step towards an AI assistant for work that helps with any task, protects your company data and is customized for your organization. Businesses interested in ChatGPT Enterprise should get in contact with us. While we aren't disclosing pricing, it'll be dependent on each company's usage and use cases." – OpenAI 
Streamlining business operations: The administrative console
ChatGPT Enterprise introduces a new administrative console equipped with tools for managing how employees in an organization utilize ChatGPT. This includes integrations for single sign-on, domain verification, and a dashboard offering usage statistics. Shareable conversation templates enable employees to create internal workflows utilizing ChatGPT, while OpenAI's API platform provides credits for creating fully customized solutions powered by ChatGPT.
Notably, ChatGPT Enterprise grants unlimited access to Advanced Data Analysis, a feature previously known as Code Interpreter in ChatGPT. This feature empowers ChatGPT to analyze data, create charts, solve mathematical problems, and more, even with uploaded files. For instance, when given a prompt like "Tell me what's interesting about this data," ChatGPT's Advanced Data Analysis feature can delve into data, such as financial, health, or location data, to generate insightful information.

Priority access to GPT-4: Enhancing performance
Advanced-Data Analysis was previously exclusive to ChatGPT Plus subscribers, the premium $20-per-month tier for the consumer ChatGPT web and mobile applications. OpenAI intends for ChatGPT Plus to coexist with ChatGPT Enterprise, emphasizing their complementary nature.
ChatGPT Enterprise operates on GPT-4, OpenAI's flagship AI model, just like ChatGPT Plus. However, ChatGPT Enterprise customers receive priority access to GPT-4, resulting in performance that is twice as fast as the standard GPT-4 and offering an extended context window of approximately 32,000 tokens (around 25,000 words).
Data security: A paramount concern addressed
The context window denotes the text the model considers before generating additional text, while tokens represent individual units of text (e.g., the word "fantastic" might be split into the tokens "fan," "tas," and "tic"). Larger context windows in models reduce the likelihood of "forgetting" recent conversation content.
OpenAI is actively addressing business concerns by affirming that it will not use business data sent to ChatGPT Enterprise or any usage data for model training. Additionally, all interactions with ChatGPT Enterprise are encrypted during transmission and while stored.
OpenAI's announcement on LinkedIn of ChatGPT enterprise
ChatGPT's impact on businesses
OpenAI asserts strong interest from businesses in a business-focused ChatGPT, noting that ChatGPT, one of the fastest-growing consumer applications in history, has been embraced by teams in over 80% of Fortune 500 companies.
Monetizing the innovation: Financial considerations
However, the sustainability of ChatGPT remains uncertain. According to Similarweb, global ChatGPT traffic decreased by 9.7% from May to June, with an 8.5% reduction in average time spent on the web application. Possible explanations include the launch of OpenAI's ChatGPT app for iOS and Android and the summer vacation period, during which fewer students use ChatGPT for academic assistance. Increased competition may also be contributing to this decline.
OpenAI faces pressure to monetize the tool, considering the company's reported expenditure of over $540 million in the previous year on ChatGPT development and talent acquisition from companies like Google, as mentioned in The Information. Some estimates suggest that ChatGPT costs OpenAI $700,000 daily to operate.
Nonetheless, in fiscal year 2022, OpenAI generated only $30 million in revenue. CEO Sam Altman has reportedly set ambitious goals, aiming to increase this figure to $200 million this year and $1 billion in the next, with ChatGPT Enterprise likely playing a crucial role in these plans.
Read more –> Boost your business with ChatGPT: 10 innovative ways to monetize using AI
ChatGPT enterprise pricing details
Positioned as the highest tier within OpenAI's range of services, ChatGPT Enterprise serves as an extension to the existing free basic service and the $20-per-month Plus plan. Notably, OpenAI has chosen a flexible pricing strategy for this enterprise-level service. Rather than adhering to a fixed price, the company's intention is to personalize the pricing structure according to the distinct needs and scope of each business.
According to COO Brad Lightcap's statement to Bloomberg, OpenAI aims to collaborate with each client to determine the most suitable pricing arrangement.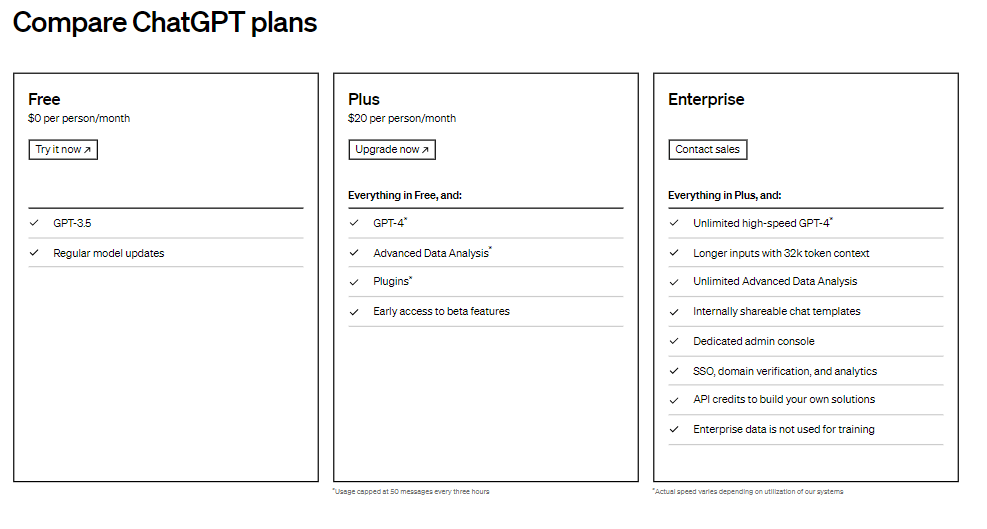 OpenAI's official statement reads, "We hold the belief that AI has the potential to enhance and uplift all facets of our professional lives, fostering increased creativity and productivity within teams. Today signifies another stride towards an AI assistant designed for the workplace, capable of aiding with diverse tasks, tailored to an organization's specific requirements, and dedicated to upholding the security of company data."
This approach focused on individualization strives to render ChatGPT Enterprise flexible to a range of corporate prerequisites, delivering a more personalized encounter compared to its standardized predecessors.
Is ChatGPT enterprise pricing justified?
ChatGPT Enterprise operates on the GPT-4 model, OpenAI's most advanced AI model to date, a feature shared with the more affordable ChatGPT Plus. However, there are notable advantages for Enterprise subscribers. These include privileged access to an enhanced GPT-4 version that functions at double the speed and provides a more extensive context window, encompassing approximately 32,000 tokens, equivalent to around 25,000 words.
Understanding the significance of the context window is essential. Put simply, it represents the amount of text the model can consider before generating new content. Tokens are the discrete text components the model processes; envision breaking down the word "fantastic" into segments like "fan," "tas," and "tic." A model with an extensive context window is less prone to losing track of the conversation, leading to a smoother and more coherent user experience.
Regarding concerns about data privacy, a significant issue for businesses that have previously restricted employee access to consumer-oriented ChatGPT versions, OpenAI provides assurance that ChatGPT Enterprise models will not be trained using any business-specific or user-specific data. Furthermore, the company has implemented encryption for all conversations, ensuring data security during transmission and storage.
Taken together, these enhancements suggest that ChatGPT Enterprise could offer substantial value, particularly for organizations seeking high-speed, secure, and sophisticated language model applications.