ChatGPT is the perfect example of innovation that meets profitability. It's safe to say that artificial intelligence (AI) and ChatGPT are transforming the way the world operates. These technologies are opening up new opportunities for people to make money by creating innovative solutions. From chatbots to virtual assistants and personalized recommendations, the possibilities are endless.
Without a further duo, let's take a deeper dive into 10 out-of-the-box ideas you can make money with Chat GPT  :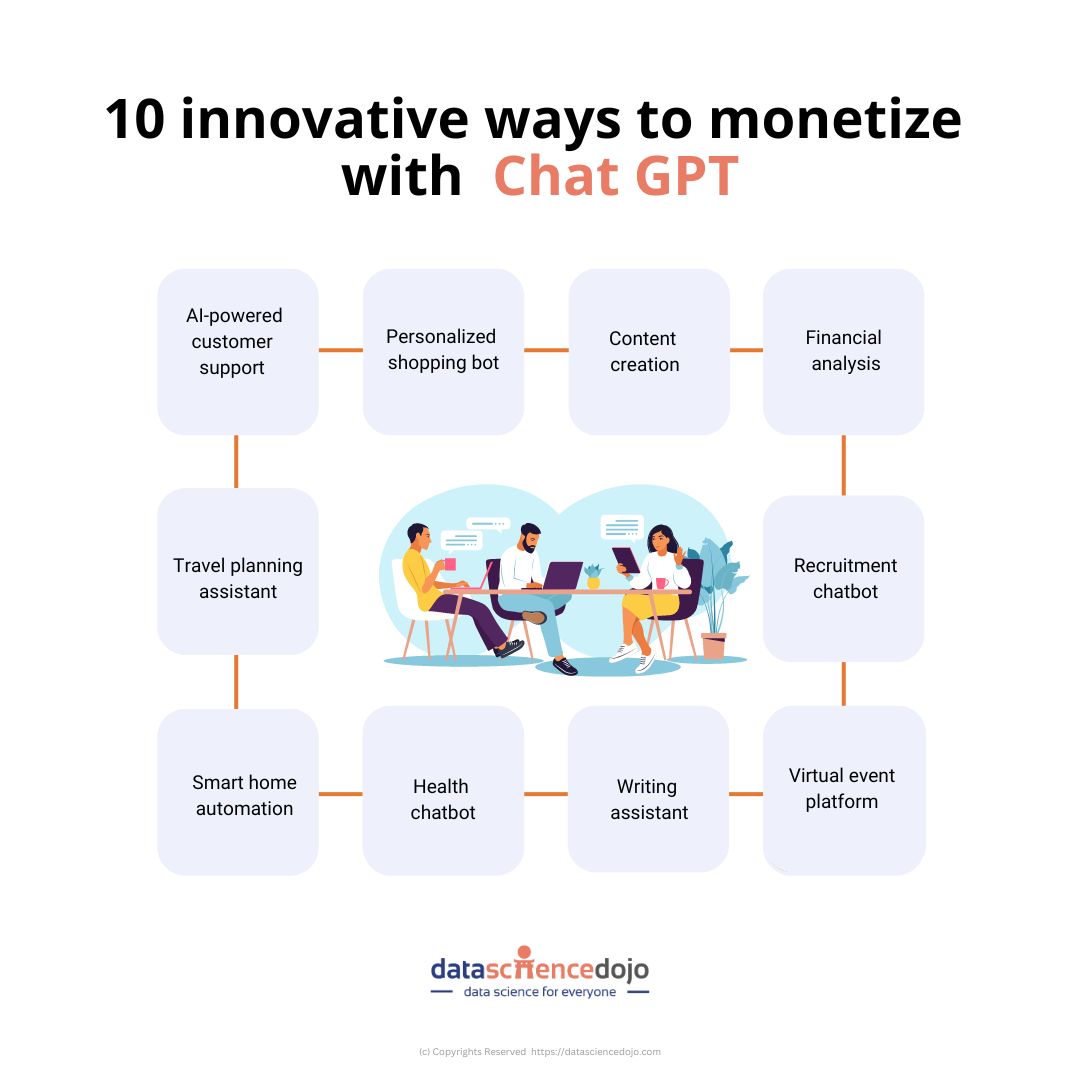 1. AI-Powered Customer Support:
AI chatbots powered by ChatGPT can provide 24/7 customer support to businesses. This technology can be customized for different industries and can help businesses save money on staffing while improving customer satisfaction. AI-powered chatbots can handle a wide range of customer inquiries, from basic questions to complex issues.
2. Personalized Shopping Bot:
An AI-powered shopping assistant that uses ChatGPT can understand customer preferences and make personalized recommendations. This technology can be integrated into e-commerce websites and can help businesses increase sales and customer loyalty. By analyzing customer data, an AI-powered shopping assistant can suggest products that are relevant to the customer's interests and buying history.
3. Content Creation:
Using ChatGPT to create automated content for blogs, social media, and other marketing channels can help businesses save time and money while maintaining a consistent content strategy. AI-powered content creation can generate high-quality content that is tailored to the specific needs of the business.
Automated content creation can help you improve your online presence, increase website traffic, and engage with your customers. 
4. Financial Analysis:
Developing an AI-powered financial analysis tool that uses ChatGPT can provide valuable insights and predictions for businesses. This technology can help investors, financial institutions, and businesses themselves make data-driven decisions based on real-time data analysis. 
5. Recruitment Chatbot:
Creating an AI-powered chatbot that uses ChatGPT to conduct initial job interviews for businesses can help save time and resources in the recruitment process. This technology can be customized to ask specific job-related questions and can provide candidates with instant feedback on their interview performance. They can also provide a consistent experience for all candidates, ensuring that everyone receives the same interview questions and process.
6. Virtual Event Platform:
Developing a virtual event platform that uses ChatGPT can help provide personalized recommendations for attendees based on their interests and behavior. This technology can analyze user behavior, preferences, and interaction patterns to make recommendations for sessions, speakers, and networking opportunities. 
7. AI-Powered Writing Assistant:
An AI-powered writing assistant can be created using ChatGPT, which can suggest ideas, improve grammar, and provide feedback on writing. This can be used by individuals, businesses, and educational institutions. The writing assistant can understand the context of the writing and provide relevant suggestions to improve the quality of the content. This can save time for writers and improve the overall quality of their writing.
8. Health Chatbot:
An AI-powered health chatbot can be developed that uses ChatGPT to provide personalized health advice and recommendations. This chatbot can use natural language processing to understand the user's symptoms, medical history, and other relevant information to provide accurate health advice. It can also provide recommendations for healthcare providers and insurance companies based on the user's needs. This can be a convenient and cost-effective way for individuals to access healthcare information and advice.
9. Smart Home Automation:
ChatGPT can be used to create a smart home automation system that can understand and respond to voice commands. This system can control lights, temperature, and other devices in the home, making it more convenient and efficient for homeowners. The system can learn the user's preferences and adjust accordingly, providing a personalized home automation experience. This can also improve energy efficiency by optimizing the use of appliances and lighting.
10. Travel P
lanning Assistant
An AI-powered travel planning assistant can be created using ChatGPT, which can recommend destinations, activities, and travel itineraries based on the user's preferences. This can be used by travel companies, individuals, and businesses to create customized travel plans that meet their specific needs. The travel planning assistant can learn the user's preferences over time and make more accurate recommendations, improving the overall travel experience. This can also save time for users by providing a convenient way to plan travel without the need for extensive research.
In a nutshell
By leveraging AI and ChatGPT, businesses can improve their efficiency, save money on staffing, and provide a better customer experience. This not only helps businesses increase revenue but also strengthens their brand reputation and customer loyalty. 
As AI and ChatGPT continue to evolve, we can expect to see even more innovative ways to use these technologies to make money. The potential impact on the future of business is exciting and it's an exciting time to be a part of this technological revolution.