Choosing to invest in a data science boot camp can be a daunting task. Whether it's weighing pros and cons or cross-checking reviews, it can be brain-wracking to make the perfect choice.
In order to assist you in making a well-informed decision and simplify your research process, we have created this comparison blog to let the features and statistics of the bootcamps speak for themselves.
So, without any delay, let's delve deeper into the comparison: Data Science Dojo vs Thinkful Bootcamp.
Data Science Dojo
As an ideal choice for beginners with no prerequisites, Data Science Dojo's Bootcamp is a great choice. It is a 16-week online bootcamp that covers the fundamentals of data science. It adopts a business-first approach in its curriculum, combining theoretical knowledge with practical hands-on projects. With a team of instructors who possess extensive industry experience, students have the opportunity to receive personalized support during dedicated office hours.
The boot camp covers various topics, including data exploration and visualization, decision tree learning, predictive modeling for real-world scenarios, and linear models for regression. Moreover, students can use multiple payment plans and may earn a verified data science certificate from the University of New Mexico.
Thinkful
Thinkful's data science bootcamp provides the option for part-time enrollment, requiring around six months to finish. Students advance through modules at their own pace, dedicating approximately 15 to 20 hours per week to coursework.
The curriculum features important courses such as analytics and experimentation, as well as a supervised learning experience in machine learning where students construct their initial models. It has a partnership with Southern New Hampshire University (SNHU), allowing graduates to earn credit towards a Bachelor's or Master of Science degree at SNHU.
Comparison of bootcamp features
Here is a table that compares the features of Data Science Dojo and Thinkful: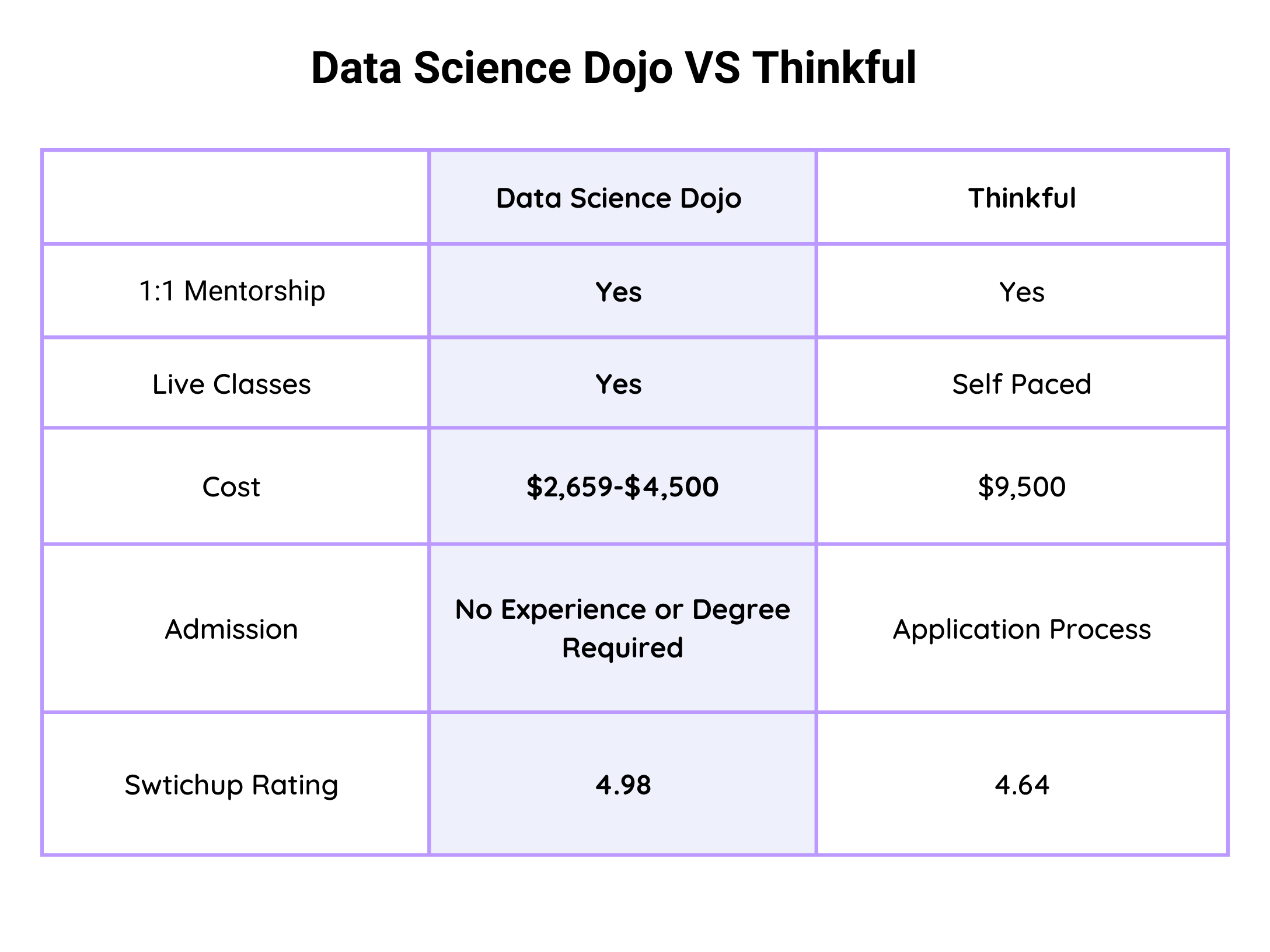 Which bootcamp is best for you?
Embarking on a bootcamp journey is a major step for your career. Before committing to any program, it's crucial to evaluate your future goals and assess how each prospective bootcamp aligns with them.
To choose the right data science bootcamp, ask yourself a series of important questions. How soon do you want to enter the workforce? What level of earning potential are you aiming for? Which skills are essential for your desired career path?
By answering these questions, you'll gain valuable clarity during your search and be better equipped to make an informed decision. Ultimately, the best bootcamp for you will depend on your individual needs and goals.
Feeling uncertain about which bootcamp is the perfect fit for you? Talk with an advisor today!