Marketing analytics tells you about the most profitable marketing activities of your business. The more effectively you target the right people with the right approach, the greater value you generate for your business.
However, it is not always clear which of your marketing activities are effective at bringing value to your business.  This is where marketing analytics comes in. Running an Amazon seller competitor analysis is crucial to your success in the marketplace. Using a framework to monitor your competitors' efforts is a great way to ensure you can beat them at their own game.
It guides you to use the data to evaluate your marketing campaign. It helps you identify which of your activities are effective in engaging with your audience, improving user experience, and driving conversions. 
Grow your business with Data Science Dojo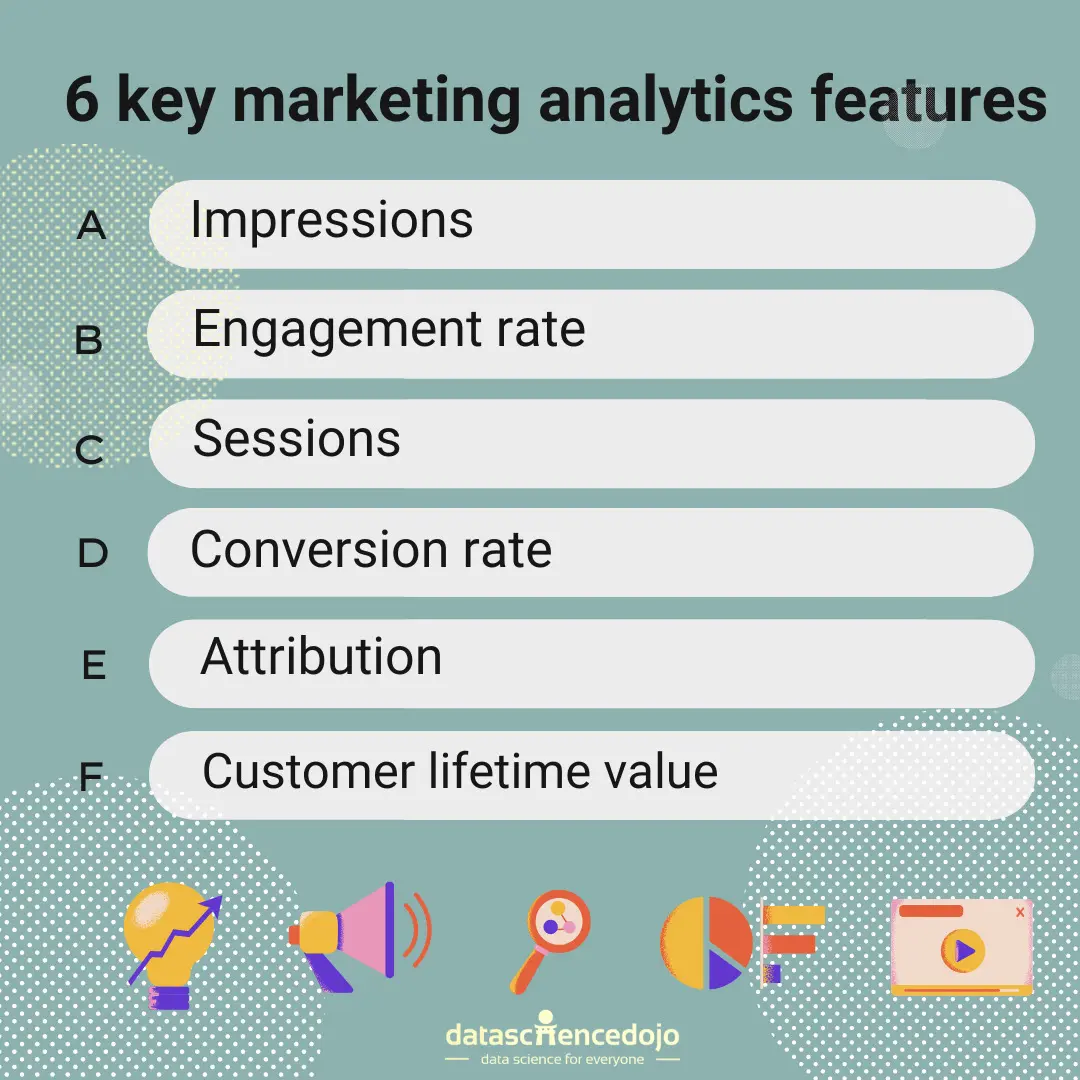 Data driven marketing is imperative in optimizing your campaigns to generate a net positive value from all your marketing activities in real-time. Without analyzing your marketing data and customer journey, you cannot identify what you are doing right and what you are doing wrong when engaging with potential customers. The 6 features listed below can give you the start you need to get into analyzing and optimizing your marketing strategy using marketing analytics 
 Learn about marketing analytics tools in this blog
1. Impressions
In digital marketing, impressions are the number of times any piece of your content has been shown on a person's screen. It can be an ad, a social media post, video etc. However, it is important to remember that impressions do not mean views, a view is an engagement, anytime somebody sees your video that is a view, but an impression would also include anytime they see your video in the recommended videos on YouTube or in their newsfeed on Facebook. The impression will be counted regardless of whether they watch your video or not. 
Learn more about impressions in this video
It is also important to distinguish between impressions and reach. Reach is the number of unique viewers, so for example if the same person views your ad three times, you will have three impressions but a reach of one.  
Impressions and reach are important in understanding how effective your content was at gaining traction. However, these metrics alone are not enough to gauge how effective your digital marketing efforts have been, neither impressions nor reach tell you how many people engaged with your content. So, tracking impressions is important, but it does not specify whether you are reaching the right audience.  
2. Engagement rate
In social media marketing, engagement rate is an important metric. Engagement is when a user comments, likes, clicks, or otherwise interacts with any of your content. Engagement rate is a metric that measures the amount of engagement of your marketing campaign relative to each of the following: 
Reach

 

Post

 

Impressions

 

Days

Views

 
Engagement rate by reach is the percentage of people who chose to interact with the content after seeing it. It is calculated by the following formula. Reach is a more accurate measurement than follower count, because not all of your brands followers may see the content while those who do not follow your brand may still be exposed to your content. 
Engagement rate by post is the rate at which followers engage with the content. This metric shows how engaged your followers are with your content. However, this metric does not account for organic reach and as your follower count goes up your engagement by post goes down. 
Engagement rate by Impressions is the rate of engagement relative to the number of impressions. If you are running paid ads for your brand, engagement rate by impressions can be used to gauge your ads effectiveness.  
Average Daily engagement rate tells you how much your followers are engaging with your content daily. This is suitable for specific use cases for instance, when you want to know how much your followers are commenting on your posts or other content. 
Engagement rate by views gives the percentage of people who chose to engage with your video after watching them. This metric however does not use unique views so it may double or triple count views from a single user. 
Learn more about engagement rate in this video
3. Sessions
Sessions are another especially important metric in marketing campaigns that help you analyze engagement on your website. A session is a set of activities by a user within a certain period. For example, a user spent 10 minutes on your website, loading pages, interacting with your content and completed an interaction. All these activities will be recorded in the same 10-minute session.  
In Google Analytics, you can use sessions to check how much time a user spent on your website (session length), how many times they returned to your website (number of sessions), and what interactions users had with your website. Tracking sessions can help you determine how effective your campaigns were in directing traffic towards your website. 
If you have an E-commerce website another very helpful tool on Google Analytics is behavioral analytics. With behavioral analytics you see what key actions are driving purchases on your website. The sessions report can be accessed under conversions tab on Google Analytics. This report can help you understand user behaviors such as abandon carts. This allows you to target these users with targeted ads or offering incentives to complete their purchase. 
Learn more about sessions in this video
4. Conversion rate
Once you have engaged your audience the next step in the customers' journey is conversion. A conversion is when you make the customer or user complete a specific action. This desired action can be anything from a form submission, purchasing a product or subscribing to a service. The conversion rate is the percentage of visitors who completed the desired action.
So, if you have a form on your website and you want to find out what the conversion rate is. You would simply divide the number of form submissions by the number of visitors on that form's page (Total conversions/total interactions). 
Conversion rate is a very important metric that helps you assess the quality of your leads. While you may generate a large number of leads or visitors, if you cannot get them to perform the desired action you may be targeting the wrong audience. Conversion rate can also help you gauge how effective your conversion strategy is, if you aren't converting visitors, it might indicate that your campaign needs optimization. 
5. Attribution
Attribution is a sophisticated model that helps you measure which channels are generating the most sales opportunities or conversions. It helps you assign credit to specific touchpoints on the customers journey and understand which touchpoints are driving conversions the most. But how do you know which touchpoint to attribute to a specific conversion?  Well, that depends on which attribution models you are using. There are four common attribution models. 
First touch attribution models assign all the credit to the first touchpoint that drove the prospect to your website. It focuses on the top of the marketing efforts funnel and tells you what is attracting people to your brand 
Last touch attribution models assign credit to the last touchpoint. It focuses on the last touchpoint the visitor interacted with before they converted. 
Linear attribution model assigns an equal weight to all the touchpoints in the buyer's journey. 
Time decay attributions is based on how close the touchpoint is to the conversion, where a weighted percentage is assigned to the most recent touchpoints. This can be used when the buying cycle is relatively short. 
What model you use is based on what product or subscription you are selling and what is the length of your buyer cycle. While attribution is very important in identifying the effectiveness of your channels, to get the complete picture you need to look at how each touchpoint drives conversion. 
 Learn more about attribution in this video
6. Customer lifetime value
Businesses prefer retaining customers over acquiring new ones, and one of the main reasons is that attracting new customers has a cost. The customer acquisition cost is the total cost that you incur as a business acquiring a customer. The customer acquisition cost is calculated by dividing the marketing and sales cost by the number of new customers. 
Learn more about CLV in this video
So, as a business, you must weigh the value of each customer with the associated acquisition cost. This is where the customer lifetime value or CLV comes in. The Customer lifetime value is the total value of your customer to your business during the period of your relationship.
The CLV helps you forecast your revenue as well, the larger the average CLV you have the better your forecasted revenue will be. CLV is calculated by dividing the annual revenue generated from customers by the average retention period (in years).  If your CAC is higher than your CLV, then you are on average losing money on every customer you make.
This presents a huge problem. Metrics like CAC and CLV are very important for driving revenue. They help you identify high-value customers and identify low value customers so you can understand how to serve these customers better. They help you make more informed decisions regarding your marketing effort and build a healthy customer base. 
 Integrate marketing analytics into your business 
Marketing analytics is a vast field. There is no one method that suits the needs of all businesses. Using data to analyze and drive your marketing and sales effort is a continuous effort that you will find yourself constantly improving upon. Furthermore, finding the right metrics to track that have a genuine impact on your business activities is a difficult task.
So, this list is by no means exhaustive, however the features listed here can give you the start you need to analyze and understand what actions are important in driving engagement, conversions and eventually value for your business.