This post lists down the top 12 Data Science channels on YouTube, along with their top video tutorials that can help you learn the fundamentals of data science in no time.
In the past three years, there has been a growth of 15 to 20 times in the field of data science. From SMEs to big corporations, every brand is keeping an eye on the actions of their online users. This has led the brands to invest huge sums into real-time analytics of how consumers are consuming & availing their products (services). The U.S. Bureau of Labor Statistics predicts a growth of 28% in the field of data science by the year 2026.   
The increasing demand for data scientists has led many young individuals to pursue it as a field or urged them to switch their profession to data science. From online Data Science Bootcamps to Master's in Data Science, there are many paths for one to grow & excel in the data science field.
However, if you are absolutely new to data science or at a beginner level, then you have landed at the right place. Based on the online polls, I have listed down the top 12 YouTube channels that can help you learn data science in no time.   
List of data science channels
Below is an unordered list of the most viewed tutorials from each channel.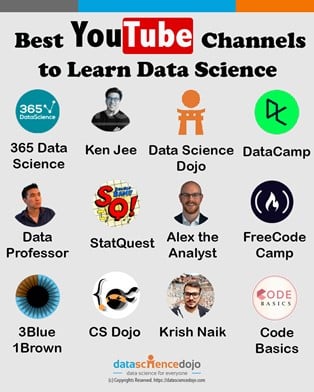 1. 365 data science
If you are at a beginner level, then 365 data science is a perfect way to begin your journey with. They have tutorials on different statistical concepts, python, and data science. Additionally, they provide a few sets of tutorials that can guide you on how to start your data science journey.
2. Ken Jee
Breaking into the field of data science is definitely not an easy thing. Though, with this channel things can turn a lot simpler for you. Using his YouTube channel, Ken Jee shares his own learning experience & makes some useful career-related advice.
3. Data Science Dojo
Getting started with Data Science Dojo YouTube videos can help you get clarity with some of the most basic concepts of data science, machine learning, and artificial intelligence. They have a series of tutorials on topics like Python Programming, R Programming, time series, text analytics, web scraping, and the list goes on.
4. Data camp
You can learn some of the elementary data science concepts in just a couple of minutes. So, if you are time bound & you just require a short overview, then Data Camp is your place.
5. Data professor
If your interest ideally lies within data science, machine learning, bioinformatics, research & teaching, then you must take a look at the videos & content being produced by Data Professor.
6. StatQuest with Josh Starmer
Finding a concept too difficult to comprehend? Then StatQuest tutorials might be a great help to you, every concept is fragmented into small & simple steps, which makes them easier to understand.
7. Alex the analyst
This channel provides all the material that one needs to know to become a data analyst. If you are planning to begin your career as a data analyst, then this channel can definitely help you out!
8. Free code camp
Does coding & programming fascinate you? If it does, then you should take a look at this YouTube channel of FreeCode Camp. It provides some useful content & tutorials that can help you with coding. 
9. 3 Blue 1 Brown
3 Blue 1 Brown can assist you to understand some of the most complex data science concepts with simple explanations that are driven by useful animations.
10. CS Dojo
Get help with programming & computer science-related problems; Learn about Python, web development, software engineering, and more thru CS Dojo.
11. Krish Naik
Get yourself familiarized with different concepts on machine learning, deep learning, and AI. Krish Naik will not only add clarity to your concepts but will discuss each of them in terms of real-world scenarios.
12. Code basics
With Code Basics, you can learn programming in the easiest & untaught manner. So, if you are looking for a veracious channel to learn to program, then Code Basics is your channel to trust on.
Want to upgrade your Data Science skillset? Checkout Data Science Dojo's Python for Data Science training.