Most people have heard the terms "data science" and "AI" at least once in their lives. Indeed, both of these are extremely important in the modern world as they are technologies that help us run quite a few of our industries. 
But even though data science and Artificial Intelligence are somewhat related to one another, they are still very different. There are things they have in common which is why they are often used together, but it is crucial to understand their differences as well. 
What is Data Science?
As the name suggests, data science is a field that involves studying and processing data in big quantities using a variety of technologies and techniques to detect patterns, make conclusions about the data, and help in the decision-making process. Essentially, it is an intersection of statistics and computer science largely used in business and different industries.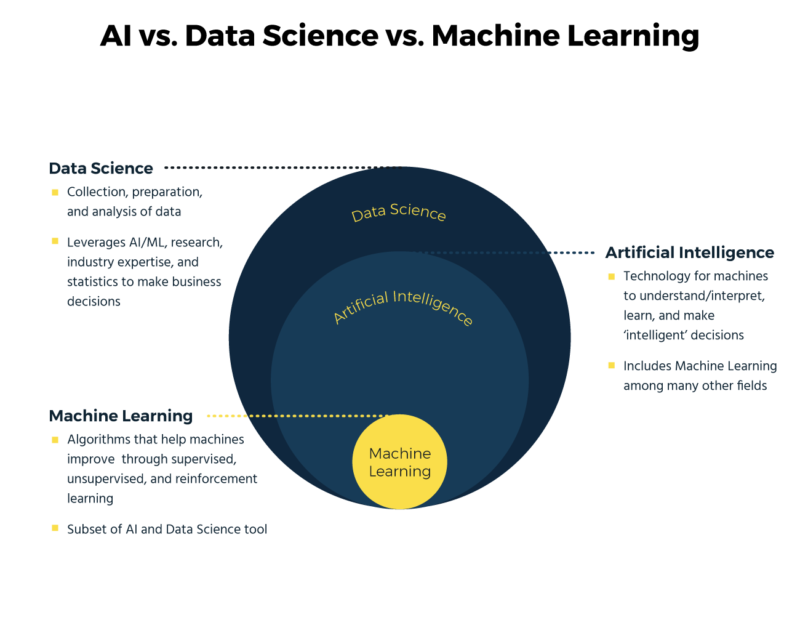 The standard data science lifecycle includes capturing data and then maintaining, processing, and analyzing it before finally communicating conclusions about it through reporting. This makes data science extremely important for analysis, prediction, decision-making, problem-solving, and many other purposes. 
What is Artificial Intelligence?
Artificial Intelligence is the field that involves the simulation of human intelligence and the processes within it by machines and computer systems. Today, it is used in a wide variety of industries and allows our society to function as it currently does by using different AI-based technologies. 
Some of the most common examples in action include machine learning, speech recognition, and search engine algorithms. While AI technologies are rapidly developing, there is still a lot of room for their growth and improvement. For instance, there is no powerful enough content generation tool that can write texts that are as good as those written by humans. Therefore, it is always preferred to hire an experienced writer to maintain the quality of work.  
What is Machine Learning?
As mentioned above, machine learning is a type of AI-based technology that uses data to "learn" and improve specific tasks that a machine or system is programmed to perform. Though machine learning is seen as a part of the greater field of AI, its use of data puts it firmly at the intersection of data science and AI. 
Similarities between Data Science and AI
By far the most important point of connection between data science and Artificial Intelligence is data. Without data, neither of the two fields would exist and the technologies within them would not be used so widely in all kinds of industries. In many cases, data scientists and AI specialists work together to create new technologies or improve old ones and find better ways to handle data. 
As explained earlier, there is a lot of room for improvement when it comes to AI technologies. The same can be somewhat said about data science. That's one of the reasons businesses still hire professionals to accomplish certain tasks like custom writing requirements, design requirements, and other administrative work.  
Differences between Data Science and AI
There are quite a few differences between both. These include: 
Purpose

– It aims to analyze data to make conclusions, predictions, and decisions. Artificial Intelligence aims to enable computers and programs to perform complex processes in a similar way to how humans do.

 

Scope

– This includes a variety of data-related operations such as data mining, cleansing, reporting, etc. It primarily focuses on machine learning, but there are other technologies involved too such as robotics, neural networks, etc.

 

Application

– Both are used in almost every aspect of our lives, but while data science is predominantly present in business, marketing, and advertising, AI is used in automation, transport, manufacturing, and healthcare.

 
Examples of Data Science and Artificial Intelligence in use
To give you an even better idea of what data science and Artificial Intelligence are used for, here are some of the most interesting examples of their application in practice: 
Analytics

– Analyze customers to better understand the target audience and offer the kind of product or service that the audience is looking for.

 

Monitoring

– Monitor the social media activity of specific types of users and analyze their behavior.

 

Prediction

–

Analyze the market and predict

demand for specific products or services in the nearest future.

 

Recommendation

– Recommend products and services to customers based on their customer profiles, buying behavior, etc.

 
Forecasting

– Predict the weather based on a variety of factors and then use these predictions for better decision-making in the agricultural sector.

 

Communication

– Provide high-quality customer service and support with the help of chatbots.

 

Automation

– Automate processes in all kinds of industries from retail and manufacturing to email marketing and pop-up on-site optimization.

 

Diagnosing

– Identify and predict diseases, give correct diagnoses, and personalize healthcare recommendations.

 

Transportation

– Use self-driving cars to get where you need to go. Use self-navigating maps to travel.

 
Assistance

– Get assistance from smart voice assistants that can schedule appointments, search for information online, make calls, play music, and more.

 

Filtering

– Identify spam emails and automatically get them filtered into the spam folder.

 

Cleaning

– Get your home cleaned by a smart vacuum cleaner that moves around on its own and cleans the floor for you.

 

Editing

– Check texts for plagiarism and proofread and edit them by detecting grammatical, spelling, punctuation, and other linguistic mistakes.

 
It is not always easy to tell which of these examples is about data science and which one is about Artificial Intelligence because many of these applications use both of them. This way, it becomes even clearer just how much overlap there is between these two fields and the technologies that come from them. 
What is your choice?
At the end of the day, data science and AI remain some of the most important technologies in our society and will likely help us invent more things and progress further. As a regular citizen, understanding the similarities and differences between the two will help you better understand how data science and Artificial Intelligence are used in almost all spheres of our lives.