Data Science Dojo is offering Metabase for FREE on Azure Marketplace packaged with web accessible Metabase: Open-Source server. 

Metabase query
Introduction
Organizations often adopt strategies that enhance the productivity of their selling points. One strategy is to utilize the prior business data to identify key patterns regarding any product and then take decisions for it accordingly. However, the work is quite hectic, costly, and requires domain experts. Metabase has bridged that gap of skillset. Metabase provides marketing and business professionals with an easy-to-use query builder notebook to extract required data and simultaneously visualize it without any SQL coding, with just a few clicks. 
What is Metabase and its
question
?
Metabase is an open-source business intelligence framework that provides a web interface to import data from diverse databases and then analyze and visualize it with few clicks. The methodology of Metabase is based on questions and the answers to them. They form the foundation of everything else that it provides. 
A question is any kind of query that you want to perform on a data. Once you are done with the specification of query functions in the notebook editor, you can visualize the query results. After that you can save this question as well for reusability and turn it into a data model for business specific purposes. 
Pro Tip: Join our 6-months instructor-led Data Science Bootcamp to become expert at data science & analytics skillset  
Challenges for businesses 
For businesses that lack expert analysts, engineers and substantial IT department, it was costly and time-consuming to hire new domain experts or managers themselves learn to code and then explore and visualize data. Apart from that, not many pre-existing applications provide diverse data source connections which was also a challenge. 
In this regard, a straightforward interactive tool that even newbies could adapt immediately and thus get the job done would be the most ideal solution. 
Data analytics with Metabase 
Metabase concept is based on questions which are basically queries and data models (special saved questions). It provides an easy-to-use notebook through which users can gather raw data, filter it, join tables, summarize information, and add other customizations without any need for SQL coding.
Users can select the dimensions of columns from tables and then create various visualizations and embed them in different sub-dashboards. Metabase is frequently utilized for pitching business proposals to executive decision-makers because the visualizations are very simple to achieve from raw data.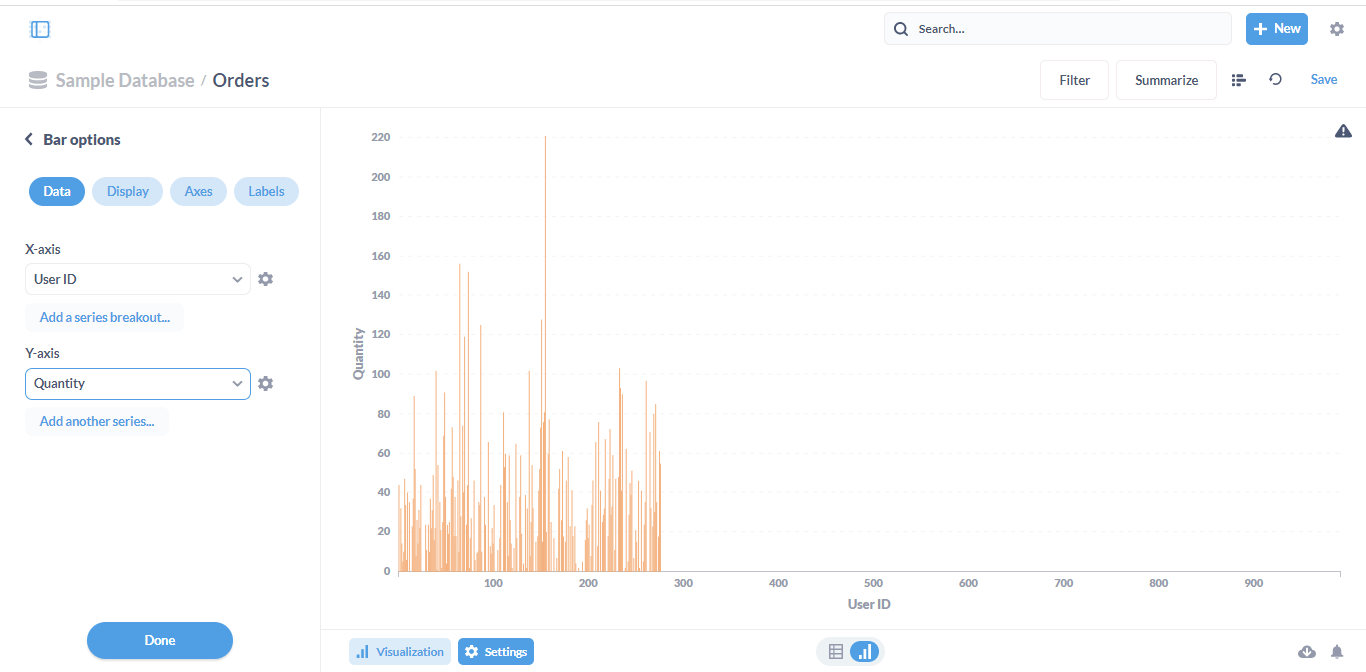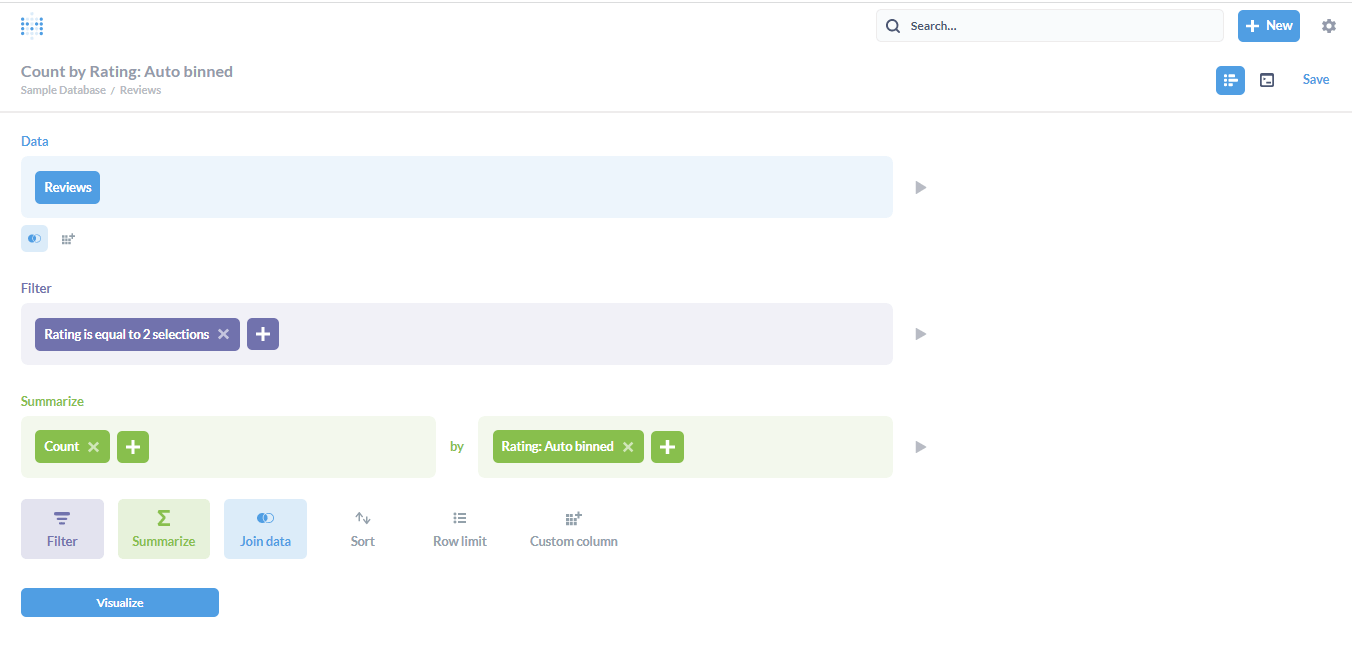 Major characteristics
Metabase delivers a notebook that enables users to select data, join with other tables, filter, and other operations just by clicking on options instead of writing a SQL query

 
In case of complex queries, a user can also use an in-built optimized SQL editor

 
The choice to select from various data sources like PostgreSQL, MongoDB, Spark SQL, Druid, etc., makes Metabase flexible and adaptable

 
Under the Metabase admin dashboard, users can troubleshoot the logs regarding different tasks and jobs

 
Has the ability to enable public sharing. It enables admins to create publicly viewable links for Questions and Dashboards 

 
What Data Science Dojo has for you 
Metabase instance packaged by Data Science Dojo serves as an open-source easy-to-use web interface for data analytics without the burden of installation. It contains numerous pre-designed visualization categories waiting for data.
It has a query builder which is used to create questions (customized queries) with few clicks. In our service users can also use an in-browser SQL editor for performing complex queries. Any user who wants to identify the impact of their product from the raw business data can use this tool. 
Features included in this offer: 
A rich web interface running Metabase: Open Source

 

A no-code query building notebook editor

 

In-browser optimized SQL editor for complex queries

 

Beautiful interactive visualizations

 

Ability to create data models

 

Email configuration and Slack support

 

Shareability feature

 

Easy specification for metrics and segments

 

Feature to download query results in CSV, XLSX and JSON format

 
Our instance supports the following major databases: 
Druid

 

PostgreSQL

 

MySQL

 

SQL Server

 

Amazon Redshift

 

Big Query

 

Snowflake

 

Google Analytics

 

H2

 

MongoDB

 

Presto

 

Spark SQL

 

SQLite

 
Conclusion 
Metabase is a business intelligence software and beneficial for marketing and product managers. By making it possible to share analytics with various teams within an enterprise, Metabase makes it simple for developers to create reports and collaborate on projects. The responsiveness and processing speed are faster than the traditional desktop environment as it uses Microsoft cloud services. 
At Data Science Dojo, we deliver data science education, consulting, and technical services to increase the power of data. We are therefore adding a free Metabase server dedicated specifically for Data Analytics operations on Azure Market Place. Hurry up and install this offer by Data Science Dojo, your ideal companion in your journey to learn data science!  
Click on the button below to head over to the Azure Marketplace and deploy Metabase for FREE by clicking on "Get it now". 

Note: You'll have to sign up to Azure, for free, if you do not have an existing account.