This blog outlines a collection of 12 AI tools that can assist with day-to-day activities and make tasks more efficient and streamlined.  
The development of Artificial Intelligence has gone through several phases over the years. It all started in the 1950s and 1960s with rule-based systems and symbolic reasoning.
In the 1970s and 1980s, AI research shifted to knowledge-based systems and expert systems. In the 1990s, machine learning and neural networks emerged as popular techniques, leading to breakthroughs in areas such as speech recognition, natural language processing, and image recognition. 

In the 2000s, the focus on Artificial Intelligence shifted to data-driven AI and big data analytics.   Today, in 2023, AI is transforming industries such as healthcare, finance, transportation, and entertainment, and its impact is only expected to grow in the future.  
Adapting to Artificial Intelligence is becoming increasingly important for companies and individuals due to its numerous benefits. It can help automate mundane and repetitive tasks, freeing up time for more complex and creative work. It can also enable businesses to make more accurate and informed decisions by quickly analyzing large amounts of data.
In today's fast-paced and competitive environment, companies and individuals who fail to adapt to Artificial Intelligence may find themselves falling behind in terms of efficiency and innovation. Therefore, it is essential for companies and individuals to embrace AI and use it to their advantage.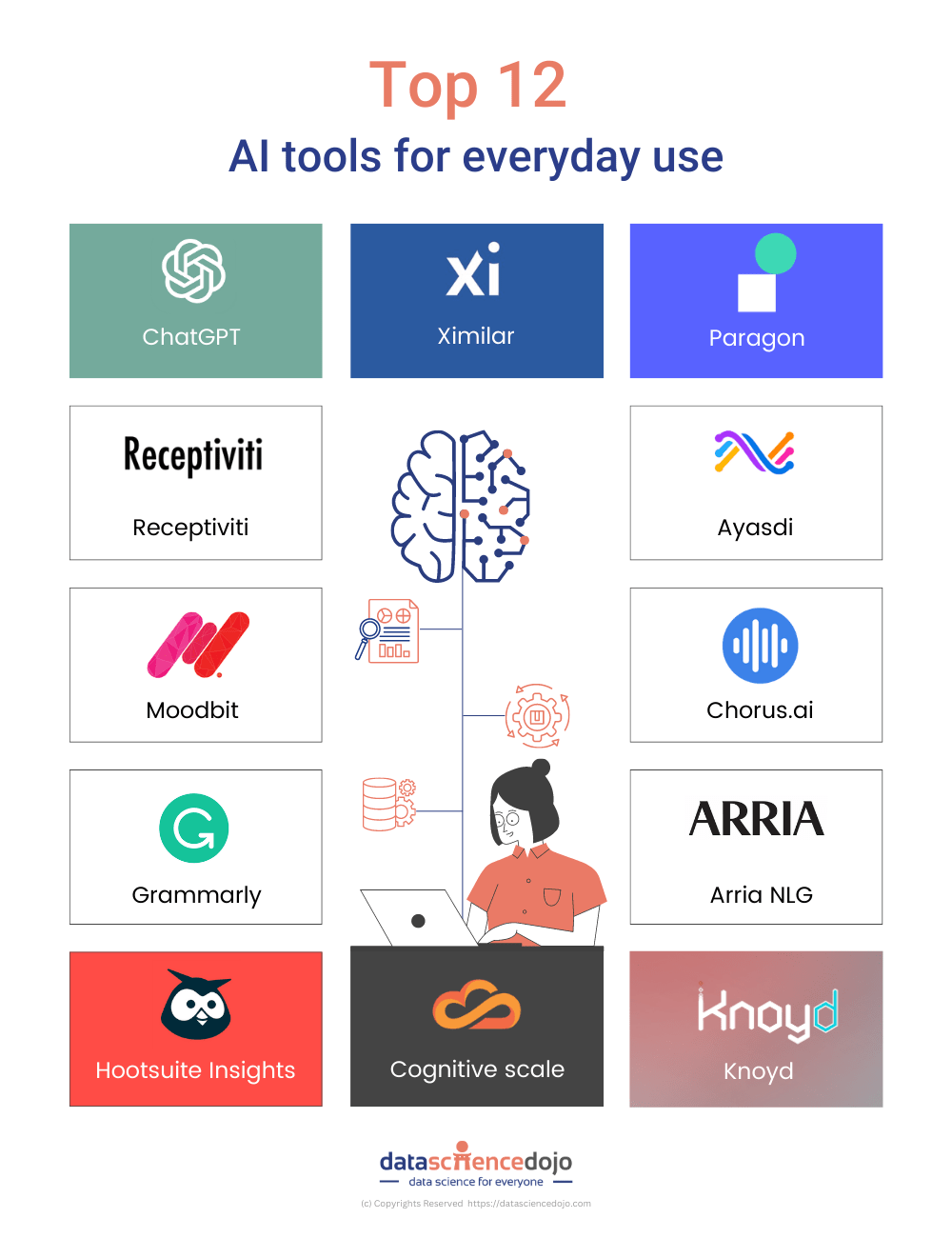 Here's a list of top 12 AI tools that can be useful for different individual and business work:  
Read more about –> ChatGPT Enterprise: All you need to know about OpenAI's enterprise-grade version of ChatGPT
Unravel the modern business challenges with AI tools
The development of Artificial Intelligence has rapidly advanced over the years, leading to the creation of a wide range of powerful tools that can be used by individuals and businesses alike. These tools have proven to be incredibly useful in a variety of tasks, from data analysis to streamlining processes and boosting productivity. As we look toward the future, it is clear that the role of AI will continue to expand, leading to new and exciting opportunities for businesses of all kinds.  
If you are interested in learning more about the latest advancements in Artificial Intelligence and data, be sure to check out the upcoming future of AI and data conference on March 1st and 2nd. With over 20 industry experts, this conference is a must-attend event for anyone looking to stay at the forefront of this rapidly evolving field. Register today and start exploring the limitless possibilities of Artificial Intelligence and data!