Landing a job that you love can be tough, especially if you've graduated amidst a pandemic or during the global recession that followed it. Even for more experienced people, the landscape of the job market is at an unprecedented speed and the future looks uncertain. This blog outlines some basic tips that will position you ahead of the curve and increase your chances of getting hired.   
With scores of resumes in front of them, recruiters only spend a few seconds reviewing each resume and making a decision, so if you've landed an interview, you've probably done something right. However, the actual recruitment process is much longer and usually very rigorous to ensure that the candidate is a good fit for the company. Let's look at some of the things you can do to improve the likelihood of getting an offer.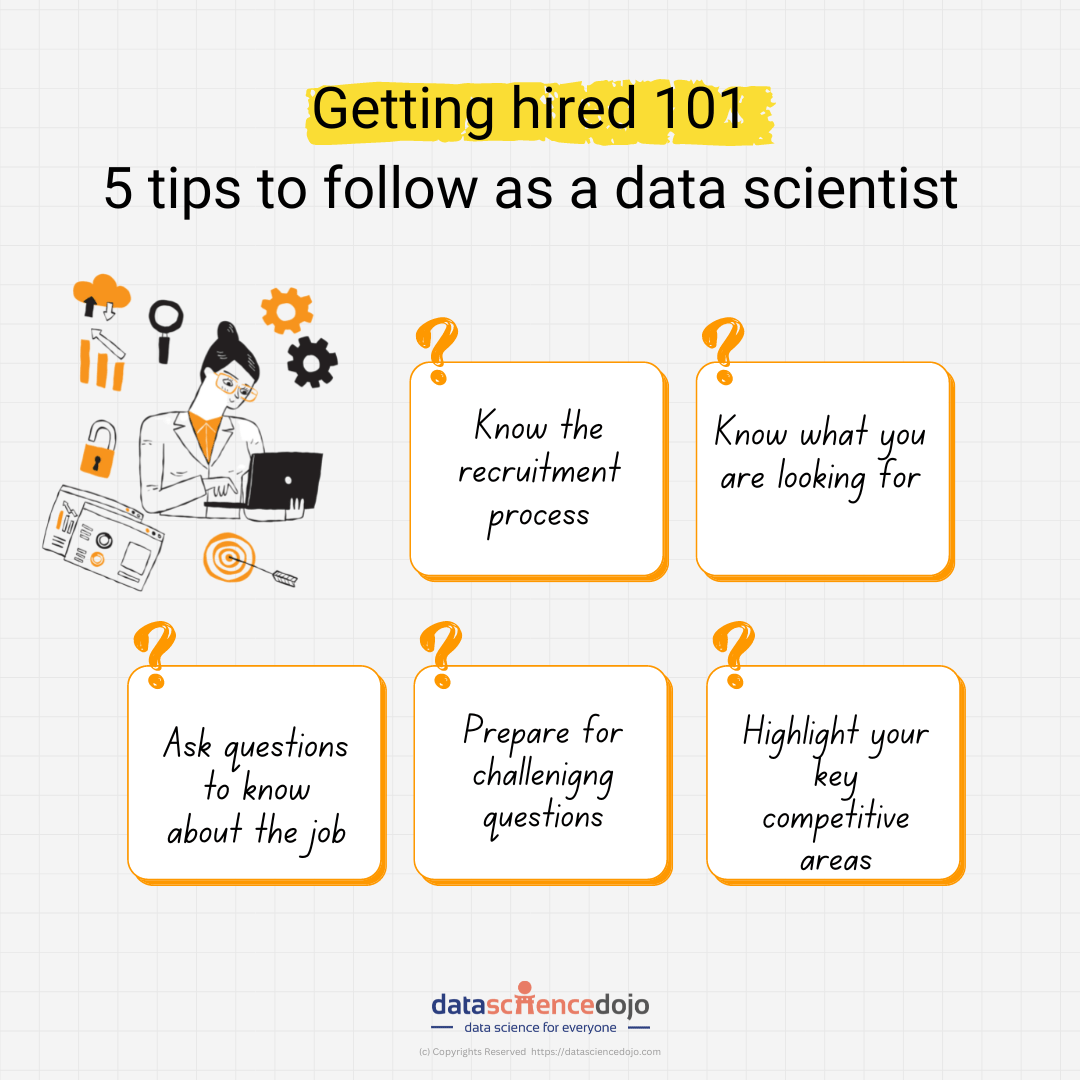 1. Know the recruitment process
Every company has a standard process for vetting candidates. This could vary for each company, but it is usually a mix of a few or all of the following components. It is important to note that all these components have a specific purpose and aim to understand different sides of you. 
Screening

– This initial step is a short interview, usually with the recruiter, to evaluate your basic skills and to validate the qualifications mentioned in your resume. The most common questions are regarding your educational and work background, availability, salary expectations, and reason for applying for the job. 

 

Case studies

– Some companies employ case studies to evaluate core knowledge and skills related to the job. They help employers identify how candidates manage uncertain situations, their logical and analytical reasoning, problem-solving skills, and creativity among other things. 

 
Intelligence testing

– IQ tests commonly measure cognitive skills. A well-rounded candidate is expected to display not only technical but critical thinking capacities and IQ tests are standardized ways of measuring that.

 

Panel interviews

– To get a holistic understanding of a candidate's capabilities, the hiring manager usually interviews them along with a few other teammates to not only assess their technical expertise but also if they would fit in with the company culture.

 
Knowing what the recruitment process looks like at a company could help you in preparing for it better and reduce your anxiety about what will come next. Therefore, when an HR representative reaches out to you, always ask about the next steps and the average time to run the complete recruitment cycle.  
2. Do your research
Before walking into the interview, learn all about what the company does, its background, and how it has grown in the past. A simple LinkedIn search could also lead you to posts by employees where you can learn about their experiences. More importantly, read the job description carefully, so you know what the role requires and how your experience can contribute to your success there.  
It also helps to know a bit about the interviewers, including their career history and role in the company. This will give you a good idea of the type of questions a particular interviewer will ask, i.e., technical or related to soft skills.    
3. Know what you are looking for
One question that interviewers use to gauge how passionate you are about the position in hand, is, "Why do you want to work with us?". While there may be many variations of this question, your answer needs to be personalized and authentic. Generalized answers like the prestige of the company and gaining work experience won't cut it.
With all this information, you will be able to formulate a personalized answer to why you chose to apply to the company which may include the culture, growth opportunities, and specific industry leaders you might want to work with among others.  
Not only this but, it will also mean that you will be applying for the right reasons. Being clear about why you are working at a company will keep you focused and motivated. In general, keep a list of things you are looking for in a company and target those that you feel would provide those to you. 
Read about: Data Analyst interview questions
4. Prepare for different interview questions
Prepping ahead of time plays a vital role in making you feel confident and ready for an interview. You may want to role-play with a friend to practice how you would respond to various prompts that might be asked of a data scientist. While it is impossible to know the exact questions that would be asked, you can dig deeper, prepare answers for frequent questions and not get tongue-tied in the interview. Different areas are assessed using the following diverse types of questions: 
Knowledge-based –

These questions tend to be more direct and help to see if the candidate would be able to perform well at the job they are being hired for. 

 

Introspective –

Companies want to hire self-aware people who not only know their strengths but also their weaknesses so they can work on them. Presenting a perfect self will not help here – it is important to reflect and be honest.

 

Hypothetical –

Using hypothetical scenarios, interviewers can assess your potential to make quick decisions and give them an insight into your process of getting there.

 

Behavioral –

Questions about how you handled

certain situations in the past are behavioral questions. This gives the interviewers a sense of how you approach problems, conflicts, and relationships at work, which eventually helps them understand if you would fit into their team.

 
5. Ask questions
At the end of each interview, candidates are asked if they have any questions from the interviewers. This is a great opportunity to get more context on the role, the team, and the company and make an informed decision. Prepare a set of questions beforehand that could include areas like working hours, policies, team structure, or specifics about the function and role. 
As a data scientist, it is important to know about the projects you will be involved in working on. Learn about the expectations during the question-answer session in your interview.
Remember that this could be a future place of work for you, and you are evaluating it as much as the interviewer is assessing you. Moreover, it will help build your interest and motivation if it is the right place for you.  
6. Plan ahead for the day of the interview
The way you act during the whole recruitment process, especially on the day of the interview, factors into your evaluation as a candidate. So, always stay professional, check your emails for errors before sending, and be courteous. For some things, you will need to plan:  
Your outfit for the interview to make a good impression,

 

Being on time: if it is an on-site interview, make arrangements for transport, 

 

Check your internet connection and laptop battery for remote interviews, 

 

Choose a peaceful spot for virtual interviews,

 
Have a wholesome meal and stay hydrated to avoid lethargy. 

 
7. Highlight your uniqueness
It is easy for someone to check all the boxes for the requirements of a role, but out of many that do, only one has to be hired. So, what is it that helps you cut? Your genuineness and uniqueness. Every person has a different journey and distinct experiences meaning everyone has something different to offer. Being able to reflect on these to understand your unique superpowers and highlight them will help the recruiters see your real potential.  
To do this, answer questions with examples of what you have done in the past and how you faced challenges. For example, a fresh graduate may not have past work experience, but you may show how good you are at teamwork by talking about a time when you delivered a team project in college.
More importantly, don't just say that you are willing to learn and come with a growth mindset, share tangible examples that showcase your curiosity and effort. Another great way to make an impression is to share something that is not explicitly mentioned in your resume. For instance, when the interviewer asks you to introduce yourself, talk about a multi-faceted you to bring your human side to light.    
Conclusion 
Overall, recruitment is all about finding the right fit on both sides. Before convincing a company to hire you, you must have solid grounds in your mind to believe that you belong there. If so, following the above-mentioned suggestions will assist you in getting there.