Despite major layoffs in 2022, there are many optimistic fintech trends to look out for in 2023. Every crisis bespells new opportunities. In this blog, let's see what the future holds for fintech trends in 2023. 
Fintech trends for 2023 not only reveal the path forward for companies big and small but rather, they also show us how changing circumstances in 2022 call for innovative solutions. While 2022 saw the world recovering from COVID as businesses turned to virtual spaces for innovation, it also experienced some of the worst layoffs. 
From big tech companies like Meta laying off 11,000 employees (about the seating capacity of Cameron basketball stadium at Duke University) and Twitter laying off 50% of its workforce, job insecurity in the tech industry is increasingly tangible. The reasons vary, from geopolitical upheavals to customers no longer needing to rely on the pandemic-inspired virtual business model.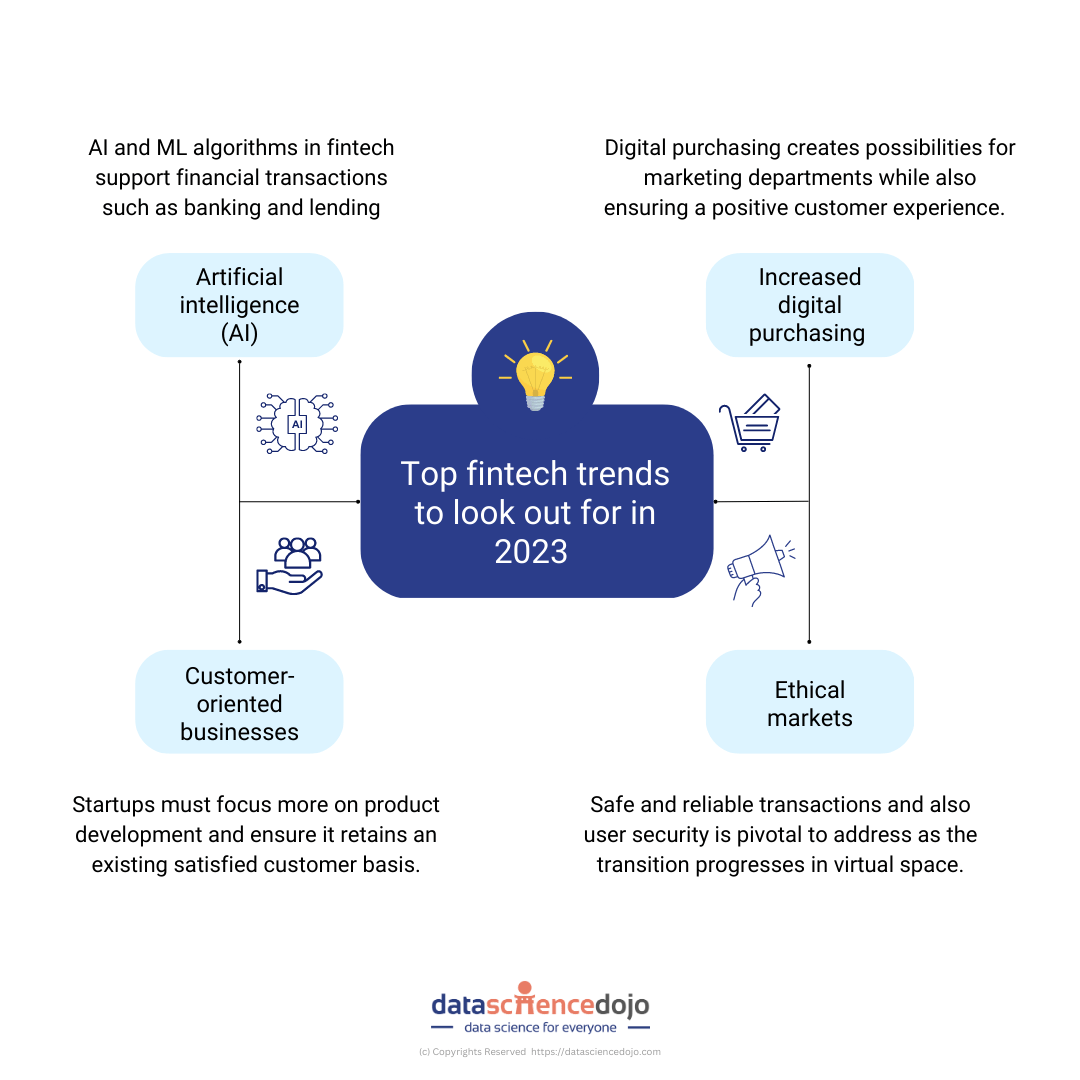 With increasing reluctance from investors, lack of funding, and fewer jobs, 2023 might seem like a glum year ahead. However, if there is anything we have learned from COVID, it is that crisis are times of opportunity and innovation. With that in mind, we look at some of the encouraging fintech trends that are likely to change the mood for 2023. 
1. Artificial Intelligence (AI)
 According to the World Bank, innovations in fintech have allowed 1.2 billion unbanked people access to financial services. At the same time, nearly 3.5 billion people still do not have access to a bank. This makes them susceptible to exploitation from expensive moneylenders or loan sharks in the informal financial sector.  
AI and machine learning algorithms however can reduce this discrepancy. AI and ML algorithms in fintech supporting financial transactions such as banking and lending will have an impartial say in which individuals have access to banking in 2023. 
Moreover, data-driven business models can be implemented in the financial sector as well. This can especially help banks reach a model that produces increased revenues while also creating a satisfactory multichannel experience for their customer base.  
2. Increased digital purchasing
Consumer behavior is key in determining business performance. Increased inflation implies that consumers will be more interested in businesses that allow them to save. A tightened purchasing power would then shift the priorities of consumers from speed and convenience to online payments that are safe and allow planning larger purchases. 
Digital buyers, in the US, for example, are expected to rise by an additional 16.4 million users (about the population of New York) while already at a staggering 268.2 million users. 
And so, increased digital purchasing is likely to be a prominent fintech trend expected for 2023, creating possibilities for marketing departments while also ensuring a positive customer experience.   
Source showing the number of digital buyers in the United States from 2017 to 2025(in millions). 
3.
Customer-oriented businesses
It is important to remember that regardless of how fast or extensively AI grows, it is real-life human consumers that determine a business' success. This makes it crucial for businesses to have a consumer-oriented focus and knowing that a company's success lies with customer retention. 
Another factor to consider is the shifting attitude of investors' increasing reluctance to invest, making fundraising longer. For startups, this has implications that a fast-paced growth model may no longer be sustainable. Instead, startups must focus more on product development and ensure it retains an existing satisfied customer basis. 
Despite reduced funding from investors, customers are still on the look for innovative changes that improve their quality of life. As a result, this tendency drives the business model more towards consumer needs and desire, as opposed to proving profits to investors. 
4. Ethical markets
The post-pandemic virtual marketplace, while has brought buyers and sellers together in various innovative ways, has also created room for unfortunate experiences of fraud, cybertheft, and data breaches. What draws people to virtual space is its safety and credibility which should be ensured at all costs. 
Increasingly, regulators, customers, and the media are urging internet companies to focus on the safety of virtual platforms. This includes safe and reliable transactions but also user security. For financial institutions to transition to virtual spaces, these concerns are pivotal to address and will be increasingly more critical as the transition progresses in 2023. 
Impact of fintech trends
In conclusion, fintech trends for 2023 are all about using AI to create financial inclusion while assisting banks to generate healthy revenue, printable invoice template, maintaining existing customer retention, focusing on ethical concerns raised by the virtual financial experiences, and lastly, an increasing digital purchasing trend of global customers.