Considering the success of our previous data science YouTube channels blog, we decided to come up with a second part. This blog lists down some of the astounding data science channels led by women.   
 Almost two years ago, we published a blog on the 'Best Data Science Channels on YouTube 'Within a few hours we received a ton of shares and engagement. The overwhelming response left us ecstatic. As we received over 180 comments across all our social media channels and sighted even more channel recommendations.   
Considering all the new recommendations and high demand for such a resource, we decided to come up with a second part of the blog. This time we are going to list top data science channels on YouTube led by women.     
List of 9 data science YouTube channels
Here is a list of data science YouTube channels led by women: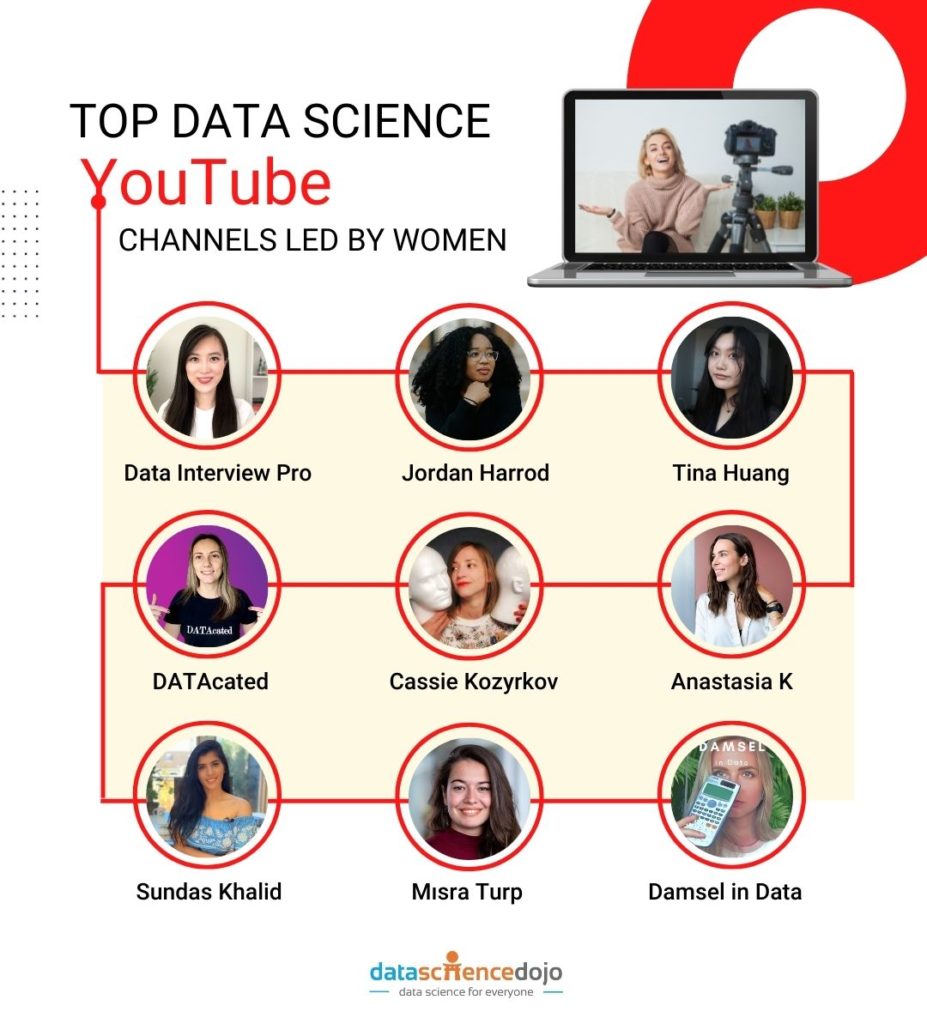 1. Data Interview Pro:
Led by Emma Ding, an ex-Airbnb data scientist, and software engineer, this channel prepares you for data science, tech, product cases, and A/B testing interviews.  
Link to the channel: Data Interview Pro
2. Jordan Harrod:
If you are planning to get started with artificial intelligence, then you need to subscribe to this channel. You can find multiple tutorials on AI, machine learning algorithms, and other new technologies.  
Link to the channel:  Jordan Harrod   
3. Tina Huang:
Tina is a data scientist at a FAANG company. Her channel can help you transition into data science, computer science, and software engineering. It can further assist you with learning and productivity.  
Link to the channel: Tina Huang
If you still need an in-depth introduction, do check out the Data Science Bootcamp to boost your career growth.   
4. DATAcated:
This channel is owned by Kate Strachnyi, where DATAcated stands for dedicated to data. It has some amazing tutorials on data visualization with Tableau, Power BI, R, Python, and other tools.  
Link to the channel: DATAcated   
If you're looking for a thorough Introduction to Power BI, do check out our training program.   
5. Cassie Kozyrkov:
Cassie is the head of decision intelligence at Google. If you are planning to get started with Statistics or AI, then her channel will be a great help to you.  
Link to the channel: Cassie Kozyrkov   
6. Anastasia K:
Do you plan to start your career in data science? Anastasia is a data scientist at a Stockholm-based music startup and her amazing channel can help kick-start your journey in the field of data science and analytics.  
Link to the channel: Anastasia K  
7. Sundas Khalid:
Enter the vast field of data science with this channel, which makes difficult topics digestible for everyone. Sundas shares some of the most useful tips pertaining to data science, data engineering, SQL, Python, and R.  
Link to the channel: Sundas Khalid   
8. Misra Turp:
From complex Python libraries such as Pandas to nifty tips and tricks, you can find some exciting data science, machine learning, coding content and challenges from Misra Turp.  
Link to the channel: Misra Turp   
Want to add value to your data science skillset? Try our Python for Data Science training.  
9. Damsel in Data:
Are you interested in learning more about coding, tech careers, and data science? This channel has a lot of incredible tutorials that can guide you. Do check it out.  
Link to the channel: Damsel in Data   
Conclusion: 
All these channels can add a lot of value to your existing knowledge and kickstart your career. However, if you are looking for more content do check out our YouTube channel. 
 If you are completely new to the field, Data Science Dojo is the one-stop solution for all your queries. From comprehensive to short tutorials on R to Python, webinars, crash courses, we cover all aspects of data science, engineering, and analytics to help you navigate your path.  
Have we missed out on any of your favorite channels that you would like to recommend? Do drop a comment below and we will review the channel for the next blog in the series!