If you are a networking entrepreneur or notable leader in your company and wondering how your organization can benefit by getting actively involved in data science communities, this writing piece is for you.
A fusion of advanced statistics, advanced mathematics, AI (Artificial Intelligence), and machine learning, Data science is here to stay. For the year 2023, things are quite bright given the demand for data scientists is projected to grow 36% between 2021 and 2031 according to the U.S. Bureau of Labor Statistics.
Data science communities have been steadily on the rise both online and in-person. Organizations and people involved with data science, machine learning, and Ai are finding opportunities to connect with other professionals and organizations. This blog explores why you might need to invest your time, efforts, and resources into community building and point out how you can benefit by creating a community or joining existing ones.  
Why is there a need for networking and community building? 
Before we jump to read the reasons, it is pertinent to decode why these support systems are introduced and exist. These communities exist for different purposes including learning and knowledge sharing, expert networks and advisory groups, membership communities, hyper-local events, and more. Most prominently, it is about fraternizing with like-minded individuals and allowing room for improvement and growth.  
Now, let us understand how you can most effectively reach out to specific people and build a data science community or better become part of one.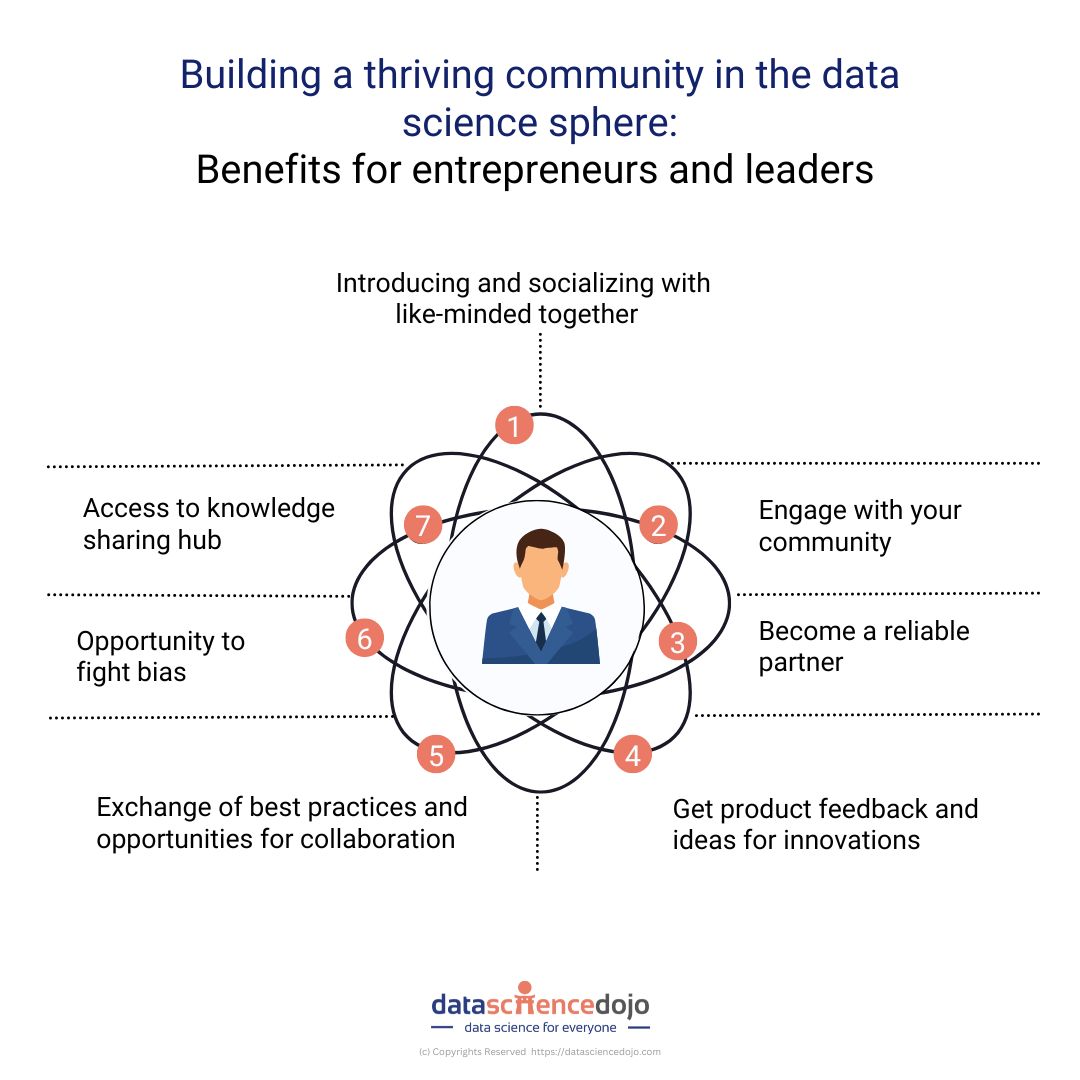 Reasons to build communities in the data science sphere
For introverts and newcomers, networking and building communities might be a nightmare but here is the thing: Effectively building a professional network and getting a job through networking is a blessing in disguise.  
1. Introducing and socializing with like-minded together
Tech jobs, coding, and working in data science can be lonely, especially these days when many data scientists work remotely. So, professionals who are not connected to a community may easily find themselves isolated, bored, and even depressed in some cases.  
The profession of data science does not have to take anyone into perpetual boredom. One should consult and socialize with like-minded situations so that things can get a little more social and interesting.  
2. Access to a knowledge-sharing hub
Since tech is a vast field, there is always a persistent need to cross-circulate information. Hence, the creation of communities in data science is essential where there can be a free flow of knowledge, ideas, and information sharing. Irrelevant to the industry level, the experts, beginners, and organizations will benefit through networking as they will get access to a platform/portal where they can ask questions and receive quality feedback.  
Q&A sessions in communities may provide data scientists with the opportunity to learn more about certain topics. These interactions can act as icebreakers and open a floodgate of discussions that will unlock a massive exchange of innovative thoughts and ideas.
3. Exchange of best practices and opportunities for collaboration
Often labeled as a quickly evolving field, the knowledge of data science is being shared widely in the industry through different means of networking. You can take this further and drive innovation by facilitating the exchange of best practices and research. This can be achieved by creating unique events and forums where there will be keynotes, panel discussions, open salons, and breakouts to discuss current and future industry trends.  
The free flow of information in communities will soon lead to some form of pairing as professionals of like minds discover themselves. This will evolve into collaboration and co-creation efforts that can birth new innovative ideas, products, and solutions.  
4. Get product feedback and ideas for innovations
One way to gather feedback on your products and gather ideas for innovation is to establish a community. This can be done by creating a forum or group where all aspiring data scientists can provide feedback and share ideas, or by conducting surveys or focus groups. By regularly communicating with peers and gathering feedback, you can stay up to date with the latest trends, pain points, and so much more.
Additionally, establishing a data science community can help you make leaps and bounds. For starters, you can regularly communicate and ask specific questions to better understand the ever-evolving DS sphere where the information can guide you to improve and develop your skill set.  
5. Engage with your community
Data Science communities are maintained through consistent engagement by senior members or industry leaders. To build robust relationships with members, it is essential to stay informed about the latest topics they discuss, their interests, and their needs. This can be achieved through regular communication, such as hosting discussions, conducting surveys, or hosting events.
By actively listening to and engaging with your community, you will gain valuable insights into what your customers truly desire and what challenges they face. This information can then be used to develop new and exciting product ideas that meet the needs of your customers, leading to mutually beneficial interactions and long-term customer loyalty.  
6. Opportunity to fight bias
The technology industry is known to have a general bias that affects certain groups of people, such as women and minorities. Many tech communities, for example, are often dominated by men, and women may face additional challenges and obstacles in advancing their careers.  
 According to Girls Who Code, a whooping percentage of women leave tech careers at age 35. Also. women are leaving tech roles at a much higher rate than men. This trend will likely continue without supportive communities that encourage and empower women in data science. However, the creation of female-forward communities, such as DSS Elevate, can help to close the gender gap in technology by providing support and resources for women in the field.  
7. Become a reliable partner
Creating and building data science communities helps build trust among data scientists and people who aspire to enter the field. Through a close-knit clan of tech enthusiasts, one can grow their network and social circle by continually engaging in it, answering important questions, and allowing the free flow of information between members. Active communities are bound to grow and attract more people. With time, you will not only gain recognition for your work as a data scientist or solution provider, but you will also become a trusted and reliable partner for all things data science.  
Wrapping up
Arresting my case, data science communities, like other professional communities, exist to enhance the skills and knowledge of their members regardless of their level of expertise or specific area of focus. These communities foster professional dialogues, idea exchange, collaboration, innovation, and co-creation among their members.
So, it is safe to say that building a data science community can bring you closer to your users and provide valuable feedback on your products and ideas for developing new products and solutions. To create a meaningful and impactful community, the focus should be on creating a platform that benefits on a larger scale.