Who says you cannot have a happy hour while working from home? At Data Science Dojo, we have cracked the code on how to chat, laugh, and connect – virtually! No more worrying about awkward small talk with the boss's boss – we are all on the same virtual playing field.  
Every now and then, our talented team at Data Science Dojo – from data scientists, content wizards, and marketing heroes to HR (Human Resources) specialists, product operations pros, and all those who run the show – put down their data-crunching hats and pick up their party hats. Here's a sneak peek of our virtual happy hour shenanigans: 
The core purpose of Happy Hour
At Data Science Dojo, we know that connecting with our colleagues is essential to fostering a strong and productive team. That's why we look forward to our virtual happy hour as a time to let loose and have some fun while also building meaningful relationships with our teammates.  
The core purpose of Happy hour is to come together to laugh, chat, and bond over common interests outside of work. It's the perfect opportunity to connect with new team members and learn what makes each of us unique.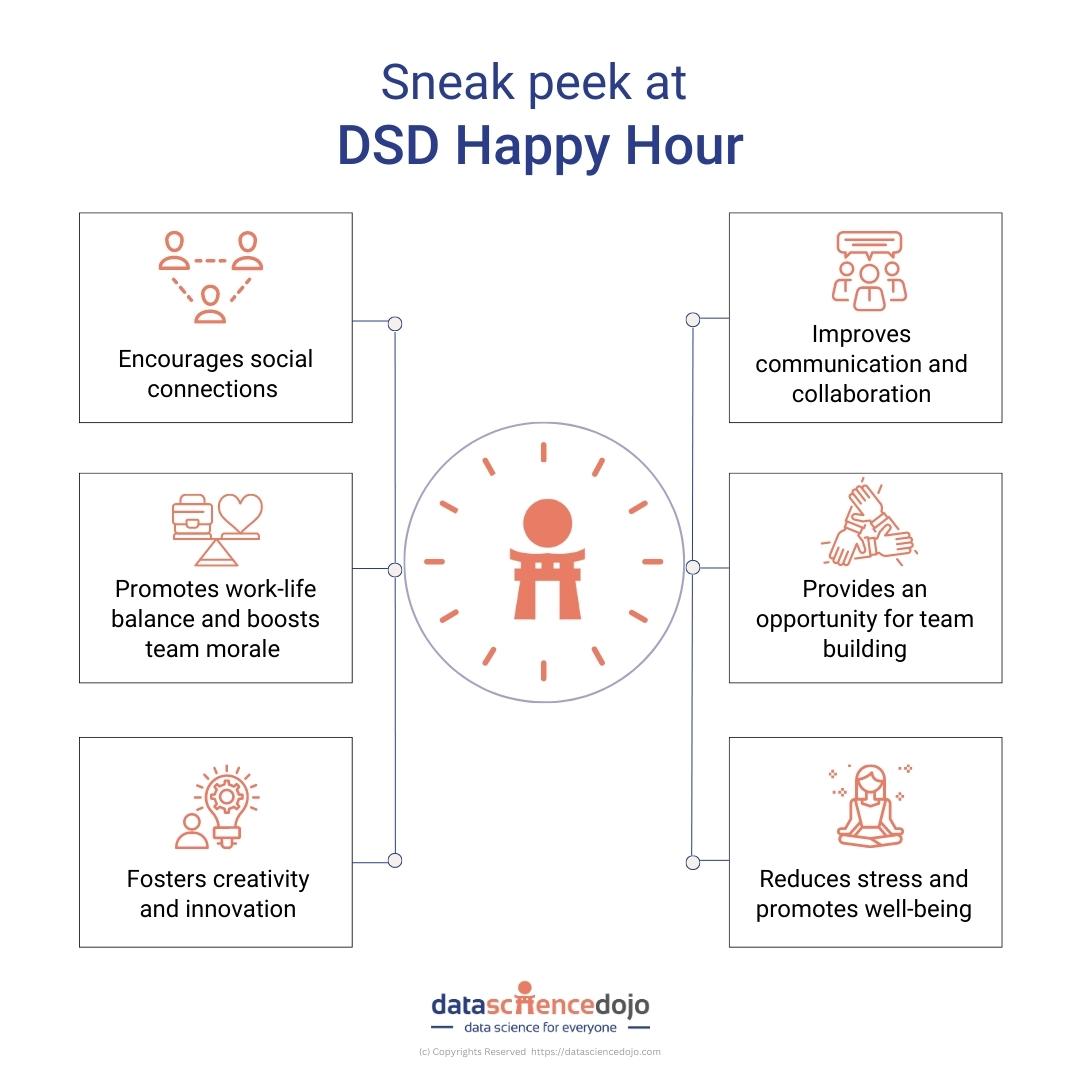 Advantages of Happy Hour
With remote work blurring the lines between work and home life, happy hour can help create a clear separation between the two, promoting a healthier work-life balance. DSD Happy Hours is a time to take a break from the monotony of repetitive work patterns and connect with colleagues in a more relaxed and informal setting. It allows coworkers to bond over common interests, share stories, and enjoy each other's company. If you are wondering why you should join the DSD Happy Hour, here is a plethora of reasons: 
Encourages social connections

 

Promotes work-life balance and boosts team morale

 

Fosters creativity and innovation

 

Improves communication and collaboration

 

Provides an opportunity for team building

 

Reduces stress and promotes well-being

 

This can lead to increased productivity and job satisfaction

Relax, Unwind, and Recharge: The positive impact of DSD Happy Hour 
Data Science Dojo tribe are staunch believers of the notion that teamwork makes the dream work! That is why we host happy hour events that provide an opportunity for our employees to relax, unwind, and recharge. But beyond the social benefits, our happy hour events also have a positive impact on collaboration and communication within our team.

When we take the time to connect with our colleagues outside of work, we gain a better understanding of their personalities, interests, and strengths. This deeper level of knowledge helps us to work more effectively together and accomplish our goals with greater ease.  
In addition to the social and professional benefits, our happy hour events also help to create a more positive and relaxed work environment. When our team members feel supported and connected, they are more likely to bring their best selves to work each day, which leads to better performance, increased creativity, and more innovative ideas. 
In short, our happy hour events are about much more than just spilling the beans on future endeavors or chatting with colleagues – they are an essential part of our company culture and a valuable tool for building a strong and successful team. 
Why DSD values employee collaboration 
Our employees are the heart and soul of DSD, and we are committed to helping them succeed. We value collective growth and collaboration helps us learn from each other, encourages personal growth, and makes it possible for us to reach business goals more quickly as well. At DSD, we prioritize our employees' well-being by adopting a people-first approach. This initiative reflects our commitment to creating a comfortable work environment. 
January 2023 – DSD Happy Hour
In January 2023, the team at DSD gathered for a virtual happy hour to catch up and share some laughter. We all shared our wittiest pieces of advice, such as "never trust a skinny cook, they may not be sampling their dishes" and "confuse them if you can't convince them." But the moment of truth came when someone revealed that the only advice they have been getting lately is "get married!" We all had a good laugh about that one. 
The conversation shifted to our aspirations, with one colleague dreaming of becoming a professional traveler and blogger, and another of a career in sustainable farming and dance club. And do not even get us started on the pet talk. Cat person, dog person, we all had a blast discussing our furry friends. And can we just talk about the hilarity of shoes being stolen outside mosques and temples? Overall, this virtual happy hour was a vibe, bringing our team together and bonding us despite working remotely. 
 Wrapping up
In conclusion, virtual happy hours at DSD have proven to be a wonderful way to bring colleagues together, build team morale, and promote a sense of camaraderie in a remote work environment. So, let us raise a toast to virtual happy hours at DSD! Not only are they a great way to connect with your colleagues, but they are also a fun and enjoyable way to unwind after a busy workday. Cheers to building stronger bonds and creating a more positive work culture, one DSD happy hour at a time!