In March 2023, we had the pleasure of hosting the first edition of the Future of Data and AI conference – an incredible tech extravaganza that drew over 10,000 attendees, featured 30+ industry experts as speakers, and offered 20 engaging panels and tutorials led by the talented team at Data Science Dojo. 
Our virtual conference spanned two days and provided an extensive range of high-level learning and training opportunities. Attendees had access to a diverse selection of activities such as panel discussions, AMA (Ask Me Anything) sessions, workshops, and tutorials.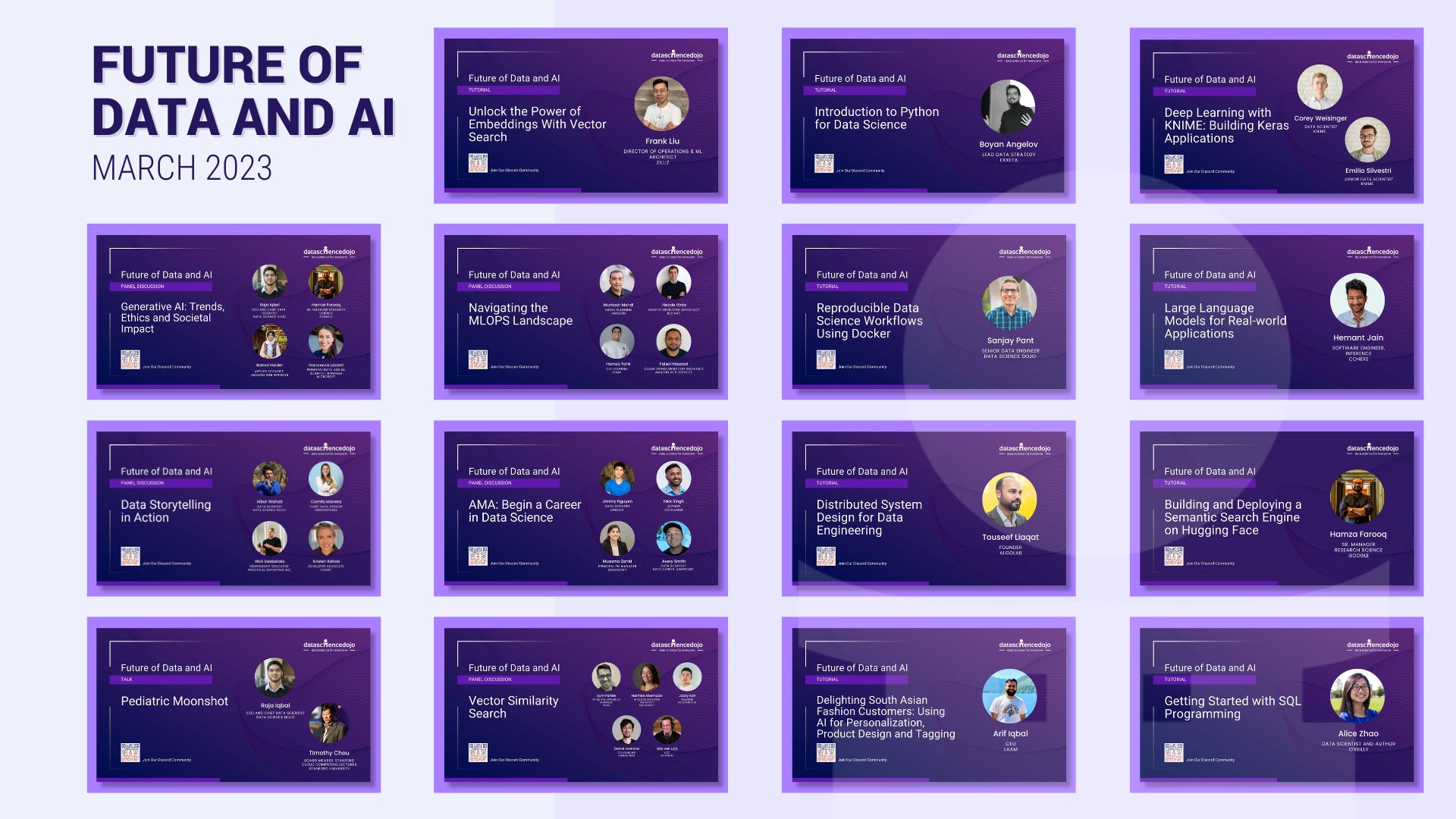 Future of Data and AI conference featured several of the most current and pertinent topics within the realm of AI & data science, such as generative AI, vector similarity, and semantic search, federated machine learning, storytelling with data, reproducible data science workflows, natural language processing, machine learning ops, as well as tutorials on Python, SQL, and Docker.
In case you were unable to attend the Future of Data and AI conference, we've compiled a list of all the tutorials and panel discussions for you to peruse and discover the innovative advancements presented at the Future of Data & AI conference. 
Panel Discussions
On Day 1 of the Future of Data and AI conference, the agenda centered around engaging in panel discussions. Experts from the field gathered to discuss and deliberate on various topics related to data and AI, sharing their insights with the attendees.
1. Data Storytelling in Action:
This panel will discuss the importance of data visualization in storytelling in different industries, different visualization tools, tips on improving one's visualization skills, personal experiences, breakthroughs, pressures, and frustrations as well as successes and failures.
Explore, analyze, and visualize data with our Introduction to Power BI training & make data-driven decisions.  
2.

Pediatric Moonshot:

This panel discussion will give an overview of the BevelCloud's decentralized, in-the-building, edge cloud service, and its application to pediatric medicine.
3.

Navigating the MLOps Landscape:

This panel is a must-watch for anyone looking to advance their understanding of MLOps and gain practical ideas for their projects. In this panel, we will discuss how MLOps can help overcome challenges in operationalizing machine learning models, such as version control, deployment, and monitoring. Additionally, how ML Ops is particularly helpful for large-scale systems like ad auctions, where high data volume and velocity can pose unique challenges.
4.

AMA – Begin a Career in Data Science:

In this AMA session, we will cover the essentials of starting a career in data science. We will discuss the key skills, resources, and strategies needed to break into data science and give advice on how to stand out from the competition. We will also cover the most common mistakes made when starting out in data science and how to avoid them. Finally, we will discuss potential job opportunities, the best ways to apply for them, and what to expect during the interview process.

 Want to get started with your career in data science? Check out our award-winning Data Science Bootcamp that can navigate your way.
5. Vector Similarity Search:
With this panel discussion learn how you can incorporate vector search into your own applications to harness deep learning insights at scale. 
 

6.

Generative AI:

This discussion is an in-depth exploration of the topic of Generative AI, delving into the latest advancements and trends in the industry. The panelists explore the ways in which generative AI is being used to drive innovation and efficiency in these areas and discuss the potential implications of these technologies on the workforce and the economy.
Tutorials
Day 2 of the Future of Data and AI conference focused on providing tutorials on several trending technology topics, along with our distinguished speakers sharing their valuable insights.
1.
Building Enterprise-Grade Q&A Chatbots with Azure OpenAI:
In this tutorial, we explore the features of Azure OpenAI and demonstrate how to further improve the platform by fine-tuning some of its models. Take advantage of this opportunity to learn how to harness the power of deep learning for improved customer support at scale.
2.

Introduction to Python for Data Science:

This lecture introduces the tools and libraries used in Python for data science and engineering. It covers basic concepts such as data processing, feature engineering, data visualization, modeling, and model evaluation. With this lecture, participants will better understand end-to-end data science and engineering with a real-world case study.

Want to dive deep into Python? Check out our Introduction to Python for Data Science training – a perfect way to get started.  
3.

Reproducible Data Science Workflows Using Docker:

Watch this session to learn how Docker can help you achieve that and more! Learn the basics of Docker, including creating and running containers, working with images, automating image building using Dockerfile, and managing containers on your local machine and in production.
4.

Distributed System Design for Data Engineering:

This talk will provide an overview of distributed system design principles and their applications in data engineering. We will discuss the challenges and considerations that come with building and maintaining large-scale data systems and how to overcome these challenges by using distributed system design.
5.

Delighting South Asian Fashion Customers:

In this talk, our presenter will discuss how his company is utilizing AI to enhance the fashion consumer experience for millions of users and businesses. He will demonstrate how LAAM is using AI to improve product understanding and tagging for the catalog, creating personalized feeds, optimizing search results, utilizing generative AI to develop new designs, and predicting production and inventory needs.
6. Unlock the Power of Embeddings with Vector Search:
This talk will include a high-level overview of embeddings and discuss best practices around embedding generation and usage, build two systems; semantic text search and reverse image search, and see how we can put our application into production using Milvus – the world's most popular open-source vector database.
7.

Deep Learning with KNIME:

This tutorial will provide theoretical and practical introductions to three deep learning topics using the KNIME Analytics Platform's Keras Integration; first, how to configure and train an LSTM network for language generation; we'll have some fun with this and generate fresh rap songs! Second, how to use GANs to generate artificial images, and third, how to use Neural Styling to upgrade your headshot or profile picture!
8. Large Language Models for Real-world Applications:
This talk provides a gentle and highly visual overview of some of the main intuitions and real-world applications of large language models. It assumes no prior knowledge of language processing and aims to bring viewers up to date with the fundamental intuitions and applications of large language models.  
9.

Building a Semantic Search Engine on Hugging Face:

Perfect for data scientists, engineers, and developers, this tutorial will cover natural language processing techniques and how to implement a search algorithm that understands user intent. 
10.

Getting Started with SQL Programming:

Are you starting your journey in data science? Then you're probably already familiar with SQL, Python, and R for data analysis and machine learning. However, in real-world data science jobs, data is typically stored in a database and accessed through either a business intelligence tool or SQL. If you're new to SQL, this beginner-friendly tutorial is for you! 
In retrospect
As we wrap up our coverage of the Future of Data and AI conference, we're delighted to share the resounding praise it has received. Esteemed speakers and attendees alike have expressed their enthusiasm for the valuable insights and remarkable networking opportunities provided by the conference.
Stay tuned for updates and announcements about the Future of Data and AI Conference!
We would also love to hear your thoughts and ideas for the next edition. Please don't hesitate to leave your suggestions in the comments section below.