In this blog, we will discuss what Data Analytics RFP is and the five steps involved in the data analytics RFP process.
A bad data analytics partner is a bit like a bad first date. In the end, both go nowhere.  
The process of finding the right partner to help you with your data analytics strategy takes time, careful consideration, and a clear understanding of both parties' expectations.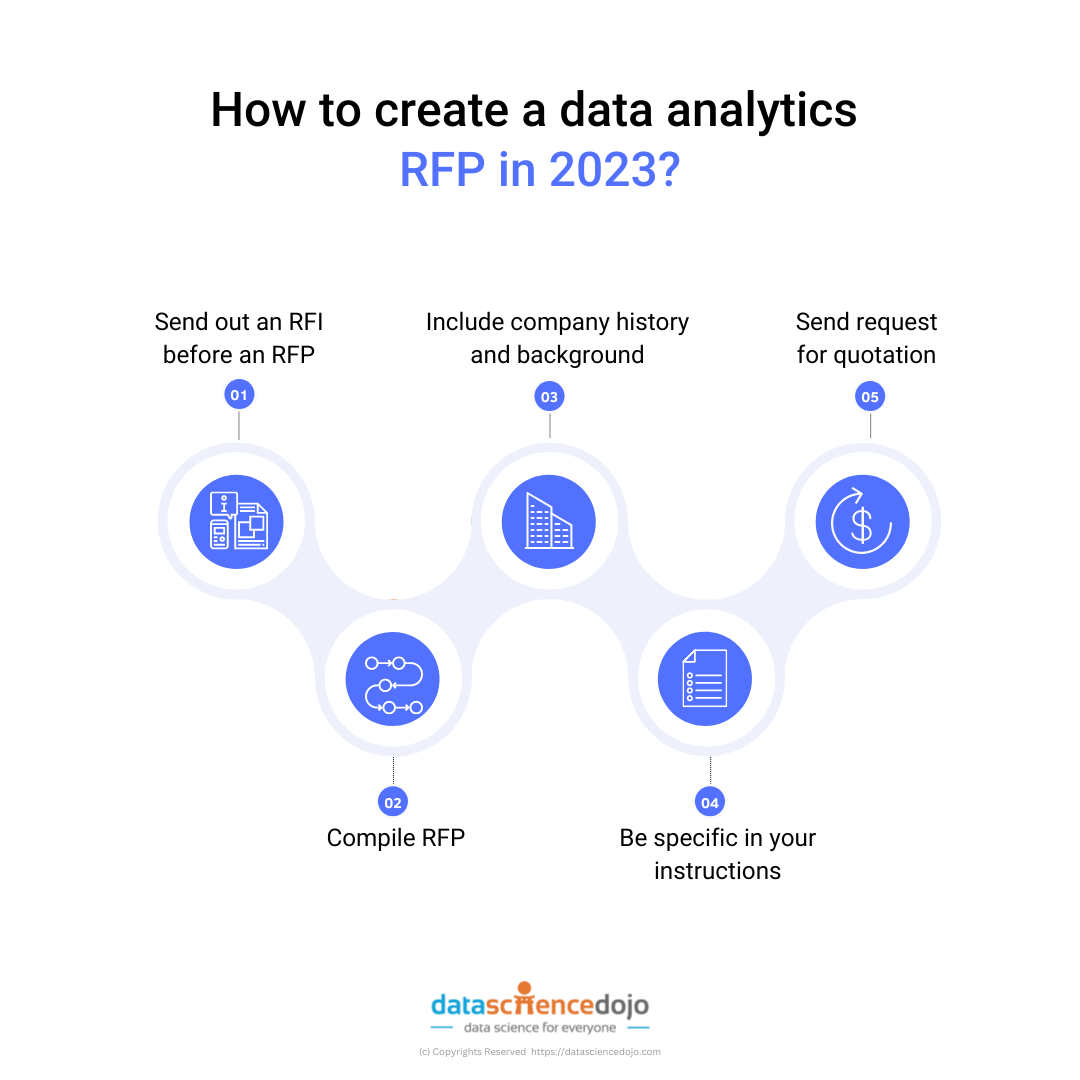 Unfortunately, there is no app to match you with an ideal data analytics team that meets your needs. Due diligence is on you, which is why it's important to align your potential partner's capabilities with your business goals. 
How can you present those goals to your potential vendors while also learning what services they can provide you with in return? 
The fastest way is to create a data analytics RFP.  
What is Data Analytics RFP?
Data Analytics RFP is a document that you create when seeking proposals for data analytics services from data analyst experts.  
RFP is not random. A well-written RFP should include detailed information about your company and projects, so data analyst vendors, as your potential partners, can understand your needs. 
When vendors receive your RFP, you can expect to get their proposals. In other words, they will bid on your project. These proposals will provide you with ideas about how vendors will approach your project, along with timelines and prices.  
There are many types of RFPs for data analytics. For instance, if you need analytics for your website, you need to know what a website RFP is. 
If you select the vendor who possesses the greatest competency in the data analytics area, it is more likely that you will deliver the expected return on investment. That is why it is very important to write a detailed and clear RFP.  
Learn about: How data analytics helps to generate more leads
And how do you do that? 
To help you create a comprehensive RFP, we have put together several guidelines that will ensure your company gets the most out of a competitive data analytics RFP process.  
1. Send out an RFI before an RFP
Before you send an RFP, you should first create an RFI (request for information). 
An RFI is a document that allows you to gather written information about the capabilities of various vendors and suppliers. It's not as detailed as an RFP.  
An RFI is an overview of your needs and questions about those needs, and an opportunity for vendors to present themselves. 
By sending RFIs, you will discover which vendors can meet your requirements. Then, you will send proposals to shortlisted companies. 
When making an RFI, make sure that it is clear enough so that vendors can understand your business analytics needs. 
Start your RFI by assessing the needs of your company and then define your wishes. After that, you can ask companies about their history, future goals, structure, ownership, and more. Then, move on to technical questions. If you are buying business analytics software, ask vendors about the history of their product, its features, and what stage of development their product is currently at.  
The answers to RFIs are usually quite general. They are more detailed in the proposal. 
2. Compile RFP
Once your RFI is finished, it is time to compile and send the data analytics RFP document.  
As we mentioned before, the RFP should be detailed and contain a list of questions that will help you find a good potential data analytics partner. For instance, you can ask: 
For a project demo

 

About the previous experience with an organization like yours

 

A list of business contacts in case your company chooses their software

 
An RFP document should include your software requirements and questions related to your company-specific business analytics needs. Of course, before even putting those questions in a request for proposal, make a proper assessment of your requirements.  
This will help vendors give you more specific answers and understand what kind of services they should offer you. 
You should also include a list of technical questions for your IT department. This is maybe the most important part of making a data analytics RFP.  
Why? 
If your vendors' systems do not compile with your IT Infrastructure, it is easy to exclude them from the list of potential partners, ensuring that neither you nor that vendor wastes each other's time. 
Your RFP should also include questions specific to the vendor's business analytics solution, such as: 
What are their software's reporting capabilities?

 

What are their software's data collection capabilities?

 

Does their software include any publishing features?

 

What programming language does their software use? 

 
3. Include company history and background
In your proposal, it's essential to provide the vendors with information about your company's history so they can learn more about: 
Your business

 

The challenges you're facing and issues you wish to solve

 

Your short- and long-term goals

 

Requirements that may impact their decision to participate in the process

 
The more information you provide to vendors, the better they can understand your business needs and what they can do for your company. 
4. Be specific in your instructions
When you receive proposals from vendors, their answers can be difficult to compare with one another, so you may find it hard to choose a good data analytics partner. 
What can you do to avoid that problem? The key is to specify your submission requirements.  
For instance, if you want to limit answers to a certain page number or word length, state it where necessary.  
Maybe you want to evaluate a sample project or give a sample assignment to vendors; in that case, you need to provide vendors with specific instructions and let them know what you expect to receive from them. 
Be clear about every step of your process, timelines, and your expectations. 
5. Send request for quotation
RFQ (request for quotation) is a document used to communicate costs and timelines. You can send it to vendors when you narrow down the list of potential vendors based on the responses to your request for proposal. Once you send RFQs to potential vendors, they will send you price estimates and timelines for software installation. 
Read more about top books to read about Data Analytics
To summarize
A successful data analytics RFP process for 2023 needs to go through three stages: 
RFI, as the first stage, is quite broad. You should use RFIs to exchange information with potential vendors about your companies, experiences, and more. RFIs allows you to evaluate as many candidates as possible in a short time and find potential business partners.

 

Creating an RFP belongs to the second stage. RFPs are detailed, allowing you to ask specific questions to the vendors you filtered during the first stage and shortlist the ones that meet your expectations. 

 

RFQ is the last stage which lets you narrow down your list of potential partners. 

 
By the end of the third stage, we are sure that you will find the right data analytics partner for your company!