Content with AI: Where creativity meets efficiency, unlocking a world of endless possibilities.
AI has brought along a revolution in the world of IT, no doubt. But it has also spawned and sparked different debates about its overall effectiveness and whether it should be relied on or not. 
One of the things that AI is currently helping a lot of people do is content optimization. In this post, we are going to be looking at some of the main pros and cons of using AI for this purpose.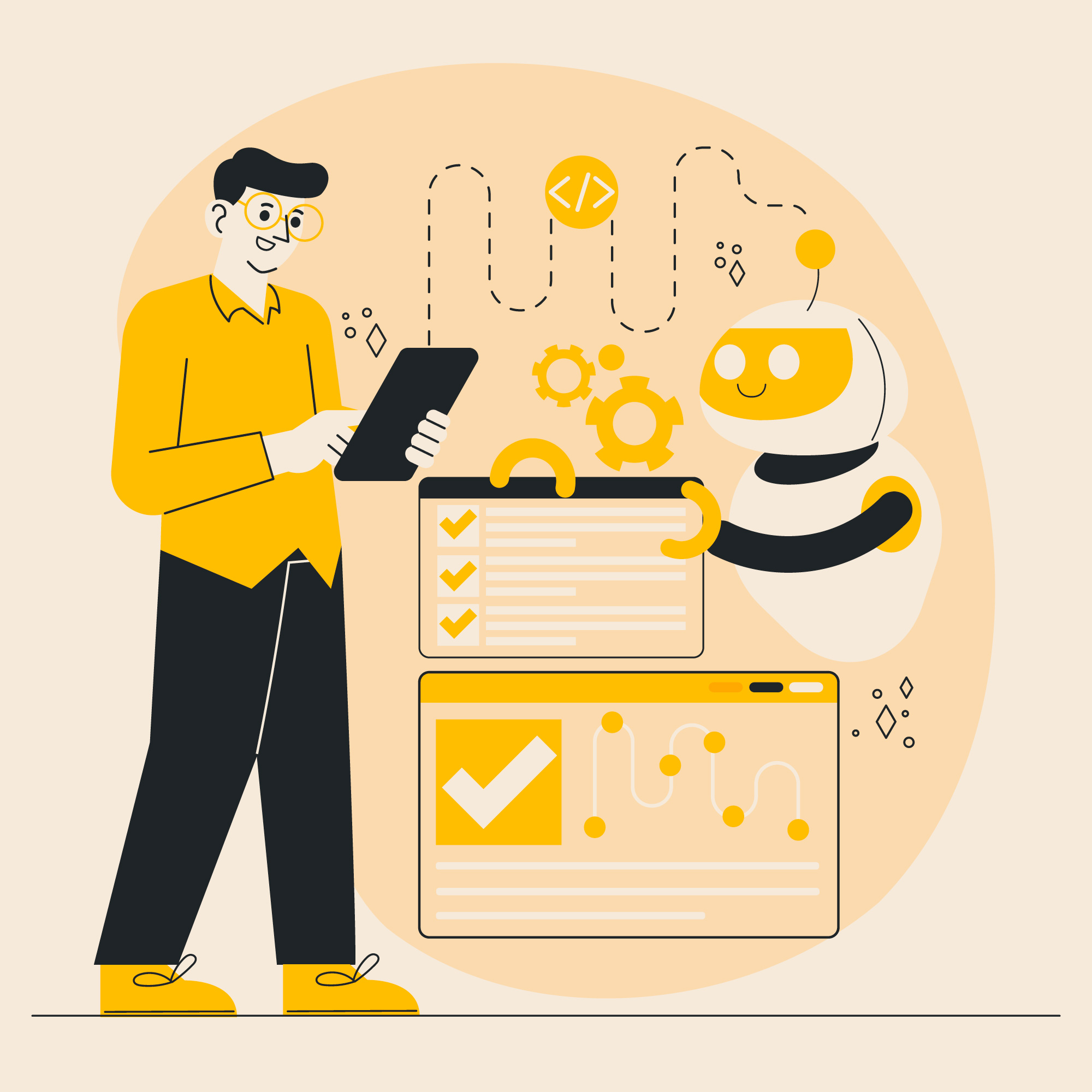 What is content optimization?
Content optimization is the process in which a piece of content is cleansed of all imperfections and adorned with best practices for the sake of improving its performance and efficacy for whichever purpose it is written. 
For example, if some content has to be optimized for SEO, the process would involve different things like adjusting the keywords in the right density, organizing the content using heading tags, adding alt texts for all the images, compressing said images, and so on. 
A fusion of content with AI
However, these steps are not universal. If some content has to be optimized for, say, academic purposes, the steps will be different. 
But some things have to be taken care of in all types of content regardless of the purpose for which it is optimized. These things include: 
Grammar errors

 

Spelling errors

 

Readability errors

 

Plagiarism

 
Top 5 AI-powered content writing tools
| Tool | Best Features | Limitations | Pricing |
| --- | --- | --- | --- |
| Rytr | Write content in 30+ languages and 20+ tones/styles, check for plagiarism and edit text outputs, create AI-based images from prompts, customized use cases with premium subscription | Not as powerful as other AI writing assistants, word-count limitations on the unlimited plan | Free, Saver ($9/month or $90/year), Unlimited ($29/month or $290/year) |
| Simplified | 50+ templates for different content types, short or long-form content in 10+ tones and 30+ languages, AI-powered Rewriter Tool for repurposing content | Text outputs similar to ChatGPT-4, team member limitations at each price plan, storage limitations in the free version and highest-priced plan | Free, Small Team ($30/month), Business ($50/month), Growth ($125/month) |
| Frase | SERP analysis and competitor evaluation, built-in copywriter tool for different sections of copy | Pro Add-On cost for generating over 4,000 words, accuracy issues with generating SEO keywords and recommendations, no real free version compared to other AI tools | Solo ($14.99/user/month), Basic ($44.99/user/month), Team ($114.99/month), Enterprise (Contact for pricing) |
| Narrato | Content marketing project management tools, quick turnaround with low prices and unlimited revisions, built-in plagiarism checker during content creation | AI tool sometimes misses the target with content outputs, 76,000-word monthly limit on the plagiarism checker | Pro ($65/month), Business ($125/month), Custom (Contact for pricing) |
| WordAI | Avoids duplication and artificial intelligence detection, rewrites entire articles in seconds, editorial controls for content variation | Few reviews, described as a rephrasing tool, limited control and editing functionality | Monthly ($57/month), Yearly ($27/month), Enterprise (Contact for pricing) |
Read more –> Top 18 AI tools that can revolutionize your work environment 
Pros and cons of AI content optimization
To give you some fair and unbiased insights about these different pros and cons, we will list one after the other. 
Pro # 1: It's quick
Perhaps the biggest benefit and advantage of using AI solutions for content optimization is that the whole process becomes a lot quicker. Optimizing content with AI involves the use of different AI tools. These tools can do the stuff a human would do in hours in a matter of seconds/minutes. 
For example, if you want to make the wording in your content clearer and easier to read, you can use a paraphrasing tool. Now, a high-quality paraphrasing tool will scan, understand and rephrase the given content in seconds. However, if you had to do the same thing yourself, it could take a much longer time. 
The same goes for other tools like grammar checkers and readability checkers. They can save you the time spent meticulously proofreading the content over and over again. 
Con # 1: Tools can sometimes be unreliable
As we mentioned earlier, AI content optimization is usually carried out with the help of AI tools. 
Now, since AI tools are, after all, tools, they don't have the smartness and spontaneity of a human being. There can be instances where they can get confused, which can lead them to commit mistakes when providing the output. 
For example, a grammar checker may get confused about the particular context or setting of a sentence/phrase, and it may falsely flag it as an error. In the same way, if a paraphrasing tool (when used for the same purpose as described above) changes the text, it can end up misunderstanding the context and making such changes that don't conform with it. 
Pro # 2: They can help save money
Using the traditional and non-electronic way, optimizing a piece of content can require, apart from a lot of time, a lot of money as well. How exactly? Well, think of the editors that you'd have to hire and the writers you'd have to pay during the process. 
This issue is ameliorated (nay, eliminated) should you choose AI tools for content optimization. A lot of online tools exist for free on the Internet, and they don't require any sort of payment to work. 
Electing to work with these types of tools can be much more economical than the old-fashioned methods. 
Con # 2: Good optimization tools can be hard to find
Using AI tools for content optimization also comes with this little con. It's not technically a con, but it's something of a hassle that users have to go through, which is why we're mentioning it here. 
While AI does make things a lot easier for optimization, it only works if you use good tools for it. And finding good tools from the numerous ones proliferating the Internet can be tough. 
The best way to go about looking for AI tools is to read blogs and reviews. That way, you can come to the ones that people generally use and think well about. 
Pro # 3: They can help you learn
When you optimize some content on your own, you just do the stuff that you're already aware of. In other words, there's no stuff to learn. 
But, if you use AI tools instead, you can learn a lot from the way they work and the outputs they provide. For example, if you want to find and remove grammar errors on your own, you may come across some that you may not even be aware of. 
However, if you use a tool, there's no question of such a situation arising. The tool will already have all the errors and their respective suggestions stored in its database. Using it will not only ensure that your content becomes free of all errors, but it also gives you a chance to learn the errors that you don't know of. 
Con # 3: AI tools can sap your creativity
Of course, this applies only in situations where the usage of the tools is excessive. 
Should the usage become intensive and excessive, the user can find themselves becoming too dependent on AI tools. This can lead to a decline in their creative skills. 
For example, a person using an AI content generation tool can end up depending on it to an extent where their ideas run dry. A person using a paraphrasing tool can start having their creativity stunted for lack of proper use. 
This is the cornerstone of the "AI World Domination" theories much blared nowadays. Yep, it's a bit irrelevant, but hopefully, you got the idea. 
Wrapping up
Like almost every other development in IT, the use of AI tools for content optimization comes with both pros and cons. In the post above, we've discussed a few of those. 
The best way to secure the pros of using these tools and avoid the cons is to simply manage and monitor the way you use them. If you use them carefully and sparingly where the need arises, and that too in an assistive capacity, there will be no issues to worry about.