Just like our other bootcamps, the course offers the same top-rated, 5-day bootcamp curriculum. The difference? You'll receive a certificate of achievement jointly offered by Data Science Dojo and University of New Mexico.
What is the difference between the certificate program and non-certificate program?
The Data Science Bootcamp in New Mexico is the only certificate program that is backed by an accredited university.
How will I get my certificate?
Once you have completed our 5-day training, you will be issued a certificate that you can print or add to your LinkedIn profile for others to see, which confirms that the course was completed through the University of New Mexico Continuing Education.
Note: the certificate does not represent official University of New Mexico academic credit.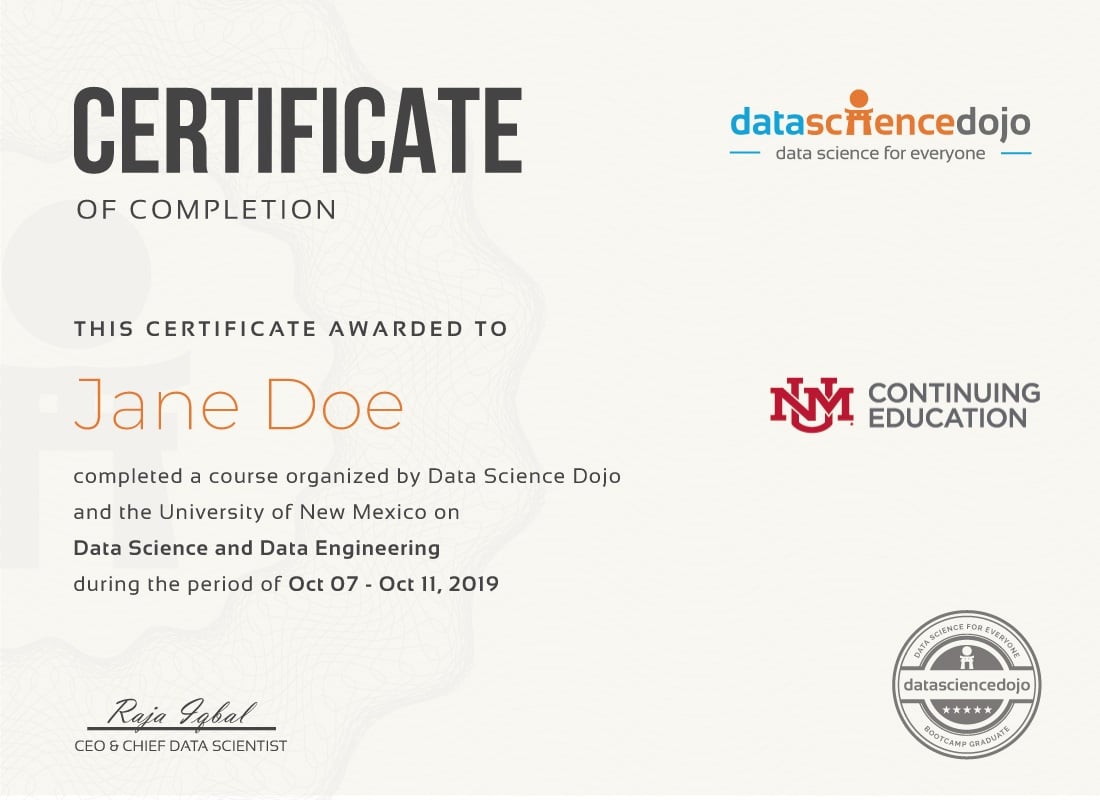 Will this certificate help me apply for a data scientist job?
Our focus is on developing professional skills, not job placement. We cannot guarantee that you will get a job after completing the bootcamp. However, during the bootcamp there will be plenty of opportunities to network with others in the industry, and you will be able to enhance and apply your skills.Upon completion of the bootcamp, we will provide you with a certificate that shows you have completed this course through the University of New Mexico's continuing education program.
Having accredited certification may be helpful if you are applying for jobs that require certification.
Do I receive continuing education credits?
Yes, the number of credits is based on the number of hours. (1 CEU =10 contact hours)
The Data Science Certificate program with the University of New Mexico awards 5 CEUs.
Where is the location of the bootcamp?
The bootcamp is located in the University of New Mexico Continuing Education Center | 1634 University Blvd NE, Albuquerque, NM 87131
Are there scholarships available for this bootcamp?
There are no scholarships available for this bootcamp. If you are a University of New Mexico faculty, you may be reimbursed by the university up to $2500. Please contact help@datasciencedojo.com for more information.We do offer early-bird discounts starting at 30% off. Discounts are available in  limited quanitities and offered on a first-come, first-served basis. Once we sell out of discounted seats, we move to full price.I am a student at UNM, can I receive any scholarship or academic credit?
The Data Science Bootcamp with the UNMCE does not give academic credit.
What is the cancellation policy?
Students may cancel and receive a full refund if requested in writing seven days prior to the start of the program for any reason.
No refunds will be issued after seven days prior to the start of the program, however, UNMCE will accept transfer of registration to another student if in that time period. No exceptions.
Transfers are allowed once with no penalty. Transfers requested more than once will incur a $99 processing fee. Transfers requested after the refund period has passed will incur a $199 processing fee.