Learnings from My Journey of Career Transition into Analytics
I was one of those graduates with serious degrees in statistics and quant who struggled with solving a business problem. Understanding numbers and applying them to drive real change are separate skill sets. Becoming skilled at analytics has enabled me to drive that change. Since then, I have trained thousands of professionals in data science, in companies like Apple, have driven $200M+ in revenue impact from hands-on analytics work, written for publications like Forbes and HBR, authored an Amazon bestseller on Analytics, and successfully delivered solutions in my former role as a lead of the Business Analytics at PayPal for North America. My client list includes Google, Box, Sutter Health, Microsoft, and many more. I get hired by Microsoft, AT&T, and other corporate clients to coach their leadership teams in data science.
Through my journey, I have gathered gold's worth of insights that I, so earnestly want to share with everyone. Join me to learn about my analytics career transition journey.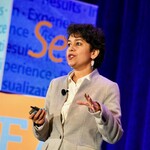 Piyanka Jain is a well-known thought leader in Data Science and Data Literacy. She is the CEO & President of Aryng, a San Francisco-based, boutique data science consulting company. She created a trending data Science framework called BADIR. She writes for publications including Forbes, Harvard Business Review, MIT, and InsideHR and her client list includes companies like Google, Paypal, Adobe, Box, JMS, Ipsy, Regeneron, and Comcast to name a few. She is an internationally acclaimed best-selling author and a frequent keynote speaker.
We are looking for passionate people willing to cultivate and inspire the next generation of leaders in tech, business, and data science. If you are one of them get in touch with us!