High-Performing Data Scientist: leveraging the non-technical skills
The key differentiator for high-performance data scientists is not technical depth, but the ability to act as a translator between the business and the technology practice. In this talk, Jeremy Adamson will share five tips for how practitioners can move their careers to the next level by leveraging relationships, reconsidering their role as data scientists, and controlling the data narrative in their organizations.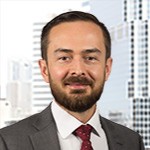 Author and AI Strategy Leader
Jeremy Adamson is the author of Minding the Machines and is a leader in AI and analytics strategy with a broad range of experience in aviation, energy, financial services, and public administration. Jeremy has worked with several major organizations to help them establish a leadership position in data science and to unlock real business value using advanced analytics. Jeremy holds a Master's in Transportation Engineering and a Bachelor's in Civil Engineering from the University of New Brunswick, as well as a Master's in Business Administration from the University of Calgary. Jeremy is a Professional Engineer in the province of Alberta.
We are looking for passionate people willing to cultivate and inspire the next generation of leaders in tech, business, and data science. If you are one of them get in touch with us!