For the Seattle bootcamp, we offer three different packages: Dojo, Guru, and Sensei packages. You can compare each package down below where we give specific details and pricing of what each package includes.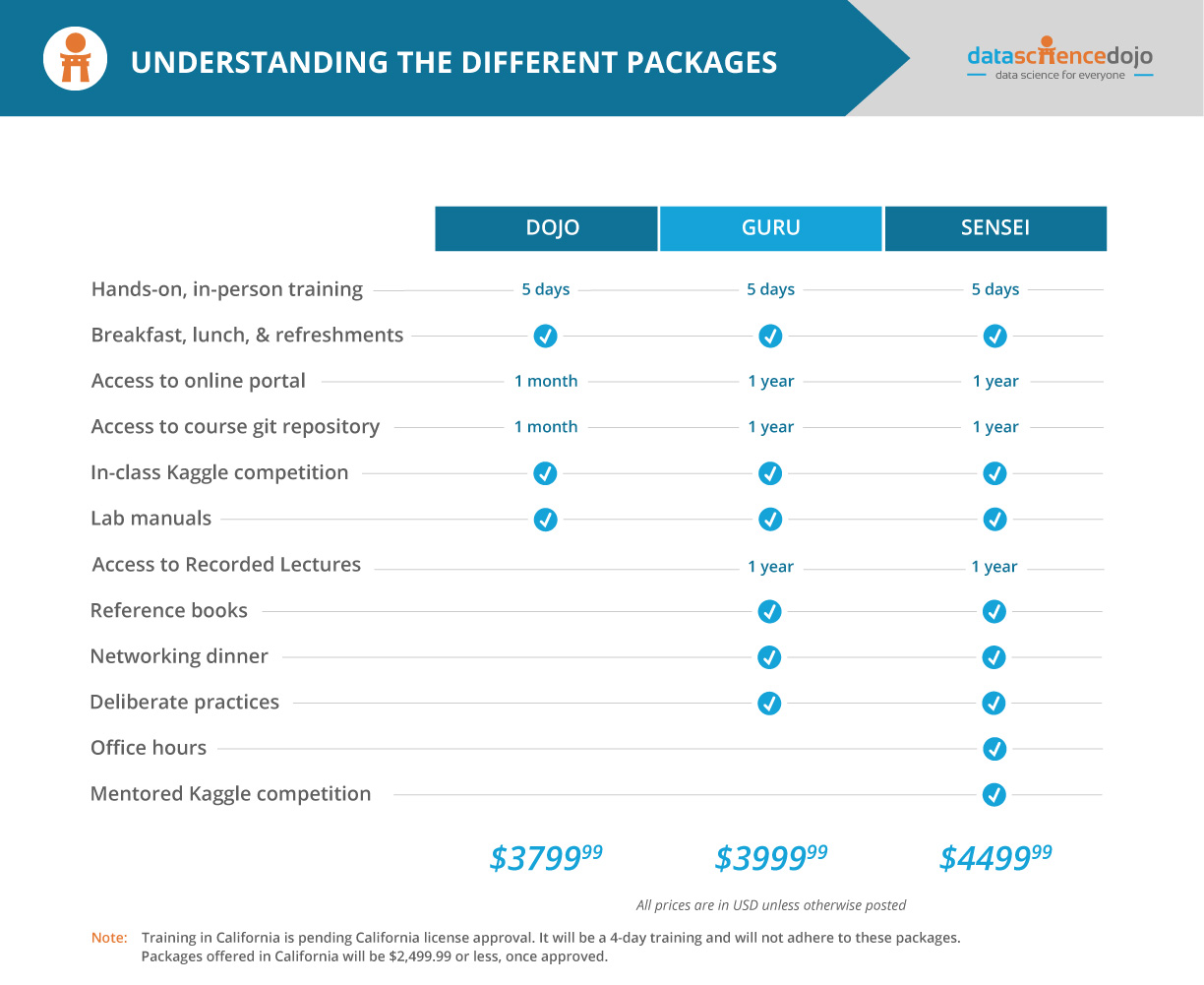 At full price, the packages range from USD $2999.99 to $4499.99 at full price. Once we announce a bootcamp, we start off with our early-bird discounts of 30% off.
Discounts are available in limited quantities and offered on a first-come, first-served basis. We have a limited number of seats at each discount tier and once we sell out of discounted seats, we move to full price.
You can find what is included in each bootcamp package at https://datasciencedojo.com/locations/seattle/#pricing/ or view our bootcamp package comparison directly.
Breakdown of Package Comparison
Dojo
5-Day Data Science Bootcamp
Learning material – includes 4 Data Science Dojo Lab Manuals and a folder with cheat sheets.
Sample code – examples in R and python
Kaggle Competition – start building your data science portfolio with a Kaggle project under your belt.
Breakfast Lunch and Unlimited Refreshments
1-week of access to the learning platform
Guru
5-Day Data Science Bootcamp
Includes everything from the Dojo package.
1-year of access to the learning platform
Invitation to join the Networking Reception
Software subscriptions during bootcamp
Reference Books

R for Everyone by Jared P. Lander
The Cartoon Guide to Statistics by Larry Gonick & Woolcott Smith
The Master Algorithm by Pedro Domingos

Deliberate Practices – Get access to practice exercises with different data-sets on our online lab environment. Hone your new skills after the bootcamp.
Recorded Lectures – Watch recorded videos for all sessions after the bootcamp to revisit concepts.
Sensei
5-Day Data Science Bootcamp
Includes everything from the Guru Package.
Office Hours- Struggling with any of the topics covered in the bootcamp? We can help with two half-hour sessions with one of the instructors.
Mentoring for a data science project – Get mentored by industry experts on a post-bootcamp Kaggle competition.
For a further breakdown and description of each item, check out this article, here.