RunPod is trusted by thousands of companies for AI training, inference, and more. We are partnering with industry leaders that are revolutionizing the machine learning landscape.
Detect, prevent, and mitigate risk in your ML models, LLMs, and data pipelines.
WhyLabs is an AI observability platform that prevents data quality or model performance degradation by allowing you to monitor your data pipelines and ML models in production. If you deploy an ML model but don't have visibility into its performance, you risk doing damage to your business due to model degradation resulting from things like data/concept drift, data corruption, schema changes and more. In many cases, data issues do not throw hard errors and can go undetected in data pipelines at a great cost to your business. With WhyLabs, you can prevent this performance degradation by monitoring your model/dataset with a platform that's easy to use, privacy preserving, and cost efficient.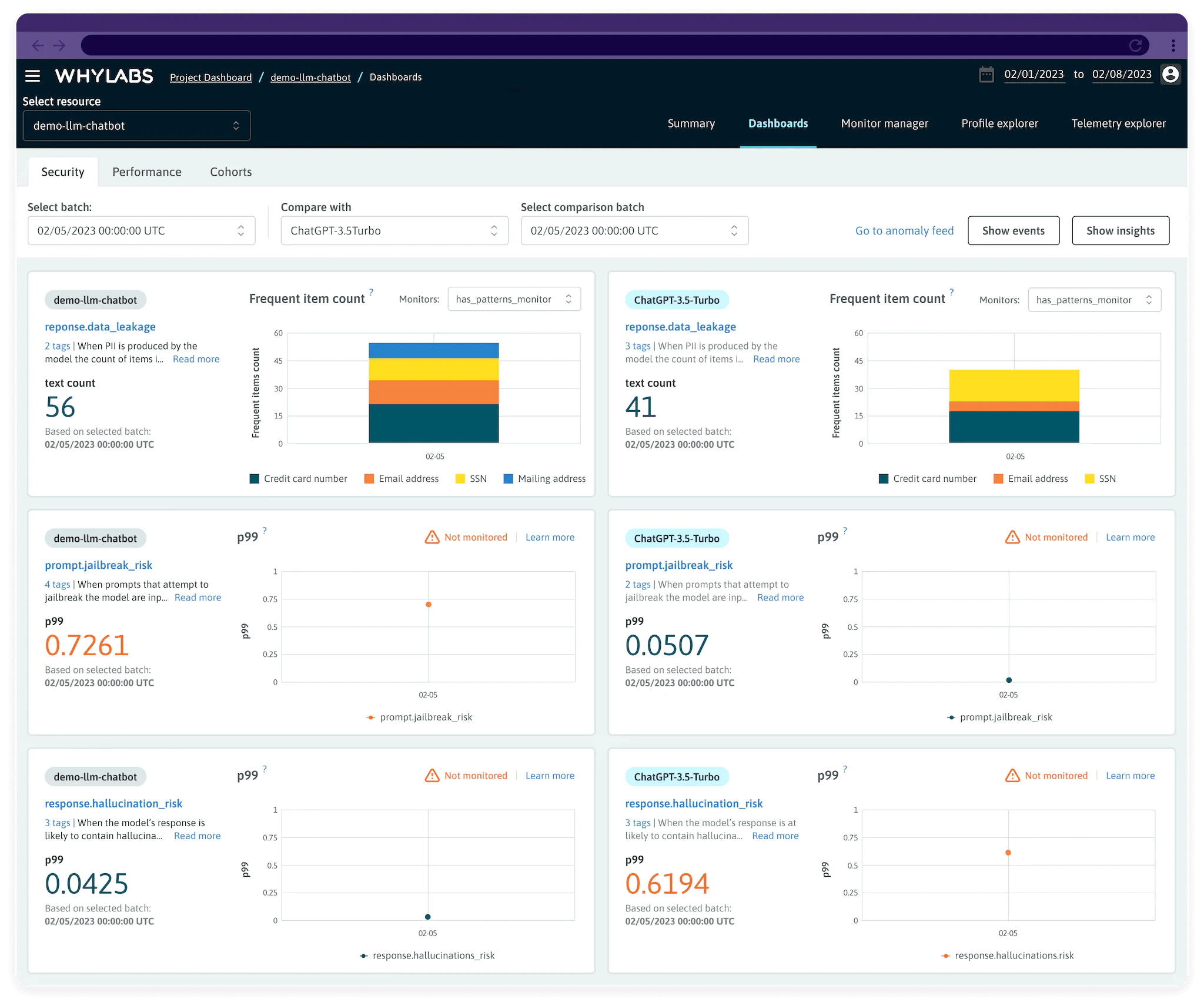 RunPod Secure Cloud:
Secure Cloud runs in T3/T4 data centers by our trusted partners. Our close partnership comes with high-reliability with redundancy, security, and fast response times to mitigate any downtime. For any sensitive and enterprise workloads, we highly recommend Secure Cloud.
RunPod Community Cloud:
Community Cloud brings power in numbers and diversity spanning the whole world to maximize pricing competitiveness. We offer peer-to-peer GPU computing that connects smaller datacenter providers to compute consumers. Our Community Cloud hosts are invite-only and vetted by us, and still abide by high standards.
RunPod Serverless:
Entirely automanaged solution that scale up and down and let you pay only for what you need, never more. Enjoy lightning-fast cold start times, automatic failover for mission-critical enterprise production, a comprehensive analytics dashboard, and robust endpoint management tools.
RunPod AI Endpoints:
Our AI Endpoints are built on top of Serverless, giving users the ability to run robust AI models in a few lines of code, including LLMs, Text to image and speech recognition models.
RunPod Storage:
Seamlessly download or upload pod data from any cloud storage with our Cloud Sync integration. Also gain access to our robust Network Volumes, which include state-of-the-art storage located in the same datacenters as our GPU. These servers are connected via a high-speed 25Gbps local network, up to 200Gbps in some locations, guaranteeing efficient data transfer and minimal latency.
RunPod Templates:
Enjoy a seemingless experience with our one-click deployment template like Pytorch, Kasm Desktop, RunPod SD Comfy UI, Tensorflow, Bittensor and much more! Connect via terminal directly in your browser, through a Jupyter notebook or through direct SSH.
Feel free to ask questions or share your comments with us. We'll get back to you soon.
You can also reach out to us by phone or email.